October 9, 2022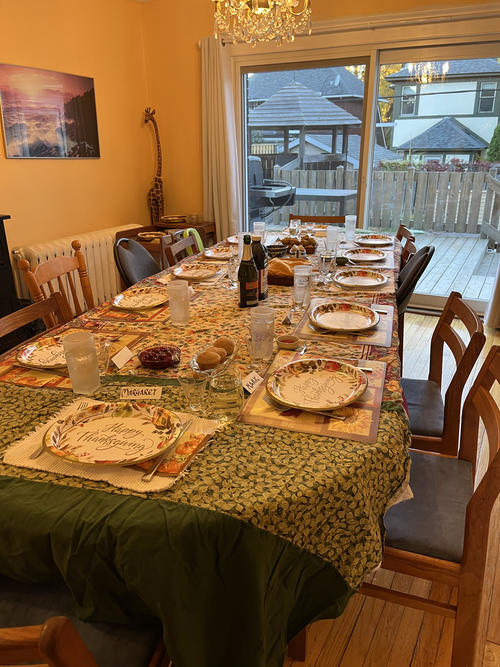 Although part of the family was away for Thanksgiving, we decided we'd have a meal with Grandma Margaret, Auntie Janice, Uncle Mark, Auntie Heather, Yukiko, Maria and Yukiko's two friends from Japan. It was our first big family gathering post-covid and while we had hoped to do it outdoors the weather did not cooperate.
We had two air filters and a window cracked, and then hoped that no one would come if they were not feeling well. I was a little nervous about all the logistics but the kids helped clean up the house and Matthew made the pies with surprisingly little assistance. We also made a dairy-free sugar free pumpkin pie custard, and Janice made an adorable pie of her own. We had three kinds of cranberry sauce (the orange relish, regular cooked and sugar free) as well as a sugar free gooseberry sauce. Then there was turkey and sweet potato, rice stuffing (made outside the turkey), a lentil dish for Mark. I had leftover pumpkin, so made some sugarfree pumpkin muffins that were good enough that the kids asked me to make more another day. Janice made some buns that were a huge hit as well. We did not lack food!
Without Brendan, we forgot to take as many pictures as usually. I thought I had cleverly documented the evening when I got Mark to take a photo before dinner but unfortunately Heather was chopped out of all the photos and Michael wasn't in many either. I even looked at them to make sure people had eyes open - not sure how I didn't notice this but anyway Heather was definitely there and now she'll just have to come back.
Michael was possibly the best behaved at dinner he has ever been, aside from during old fashioned week. I was very impressed. The other two were not bad, although Matthew showed why he can't be trusted to serve himself with the whipping cream...
Everyone was thrilled to meet Yukiko's friends. "They were SOOOO nice!" Amelia gushed. Matthew didn't want to go to bed because "I might never see them again and I have having so much fun with them". Overall we were very thankful to spend this time with family.
You might also like
- Happy Thanksgiving!
(0.441475)
- Social Distancing: Day 20
(0.423108)
- Virtual Piano Recital
(0.421538)
- At Mary's
(0.41519)
- Halloween
(0.415128)
All