October 16, 2022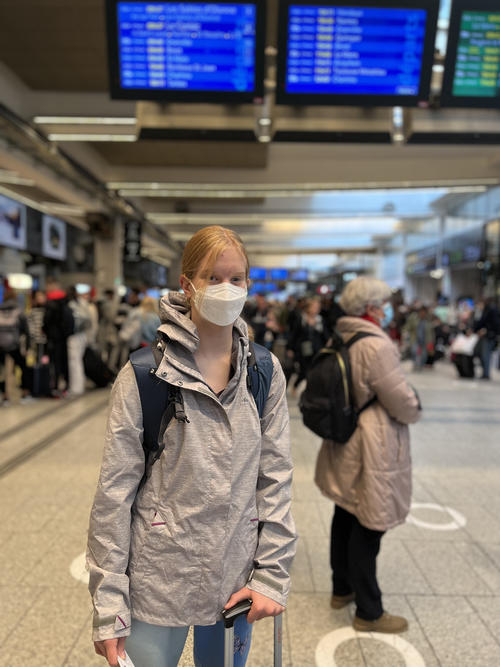 The final stage of the journey for 3/4 of us was our return via Paris. We stayed overnight in Paris (arriving later than we had hoped due to a delay leaving Dublin). By the time we had made it to our hotel and found somewhere to eat it was quite late. We debated long and hard about going to the Eiffel tower and in the end Erika and Chris decided to make the trip while Elizabeth and Daddy went back to the hotel to snooze. Elizabeth was very sad about this but also completely exhausted and had a very big day ahead of her. Erika and Chris were successful in their mission but only made it to bed by around 1:00am. In the end I think this was the right call all around and hopefully Elizabeth will have a chance to visit the tower with Delphine.
In the morning we ate breakfast at the hotel (which was amusing in itself as breakfast was in the basement where the dads did not exactly fit. After breakfast we walked over to the train station and found Elizabeth's train. She was quite anxious about it, but we calmly explained how to find her car and seat and walked her to her gate on the platform. Once she was actually on the train she relaxed and enjoyed her ride. The train was a super fast TGV and she said "it really zooms". In the time it took us to make our way to the airport and check in she had traveled 500kms across the country. With Elizabeth safely picked up at the other end we boarded our flight and headed home - leaving Elizabeth to start her own adventure.
You might also like
- Mooney's Bay
(0.364425)
- River Oak
(0.363064)
- A shower and the Great Glebe Garage Sale!
(0.358749)
- Boston
(0.358407)
- Christmas Day 11: Gingerbread 2 and Lego
(0.353301)
All