October 13, 2022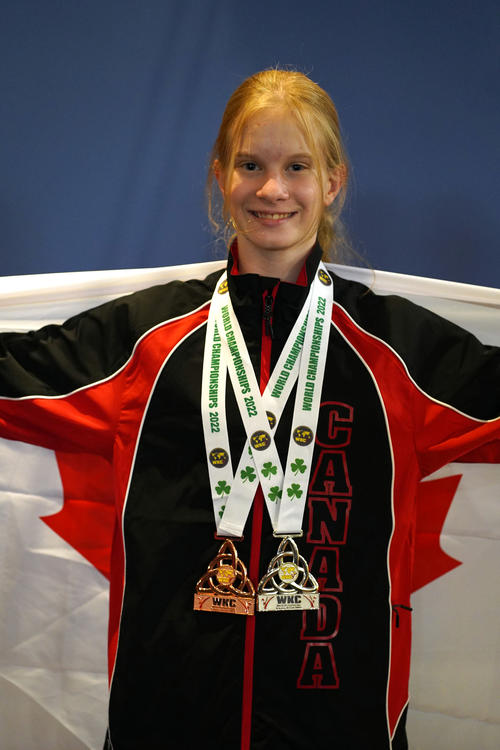 The tournament itself was much bigger than last year's event (which saw no Europeans due to COVID). The makeup of the teams was interesting to note. Canada, England and the USA were all pretty much tied for size of their teams. Canada must have sent somewhere around three times as many people as last year and the USA sent many fewer (understandable as last year it was in the USA). The rest of the America's sent many fewer as well (again understandable given the much greater travel distance). Elizabeth was much less nervous this time around having some idea of what to expect. Erika however was in awe at the size of the event.
In Elizabeth's divisions there was a lot of very tight competition and the judging did not go in her favour for the eliminations. She narrowly missed advancing to finals in 3 out of 5 of her day one individual divisions. While she was clearly disappointed, she did a fantastic job of refocusing on her remaining divisions. The girls made it through to the finals in their team forms division in 3rd place out of a very strong group of 8 teams and were extremely pleased with that.
In sparring Elizabeth handily won her first fight and then ended up matched against her teammate. It was sad that one of them had to be eliminated but Elizabeth didn't mind losing to Remy and they both ended up on the podium together in the end.
In the finals Elizabeth came fourth in another very close group for traditional weapons. She absolutely nailed her extreme weapons routine finishing a very close 2nd. She beat last year's gold and silver medalists handily.
Erika and Elizabeth put forward a very solid team form and for reasons beyond anyone's understanding dropped to 4th leaving them heartbroken. A number of the senseis made a point of talking to the girls about the loss and how you don't always come out where you deserve to but you learn from the experience and improve for next time. It really is amazing that they not only made it to the world championships but also to the finals and ultimately there were many others who would have loved to have even had the chance they did to compete at that level.
Overall Elizabeth was disappointed to have a significantly smaller haul of medals compared to the unbelievable results from last year. However, she understands that you don't always win and that it isn't really about winning either. Her progress compared to last year is really quite amazing and she is already talking about what to work on for next year. Her rate of improvement is much faster than most of her competition and we noticed this year that she really isn't that far off what some of the adults were putting forward.
We are super proud of her amazing karate skills but also of her maturity and development as an individual and team player in dealing with all the nerves, emotion and pressure of such situations. It was really great to see her supporting her teammates instead of wallowing in defeat and to see them do likewise. Her senseis of course also gave it their all, not just on the mat, but in supporting their students between their own divisions. Special thanks is owed to sensei Cody for the huge effort he has put into training Elizabeth (and Erika) this year. It was such a delight to watch him compete and take home grand champion in both forms and weapons.
We are so proud of both the girls and we can't wait to see how they continue to grow.
You might also like
- WKC Nationals
(0.5026)
- WKC World Championships
(0.493007)
- Nationals
(0.478367)
- WKC Worlds
(0.452763)
- Burlington
(0.448639)
All