September 24, 2022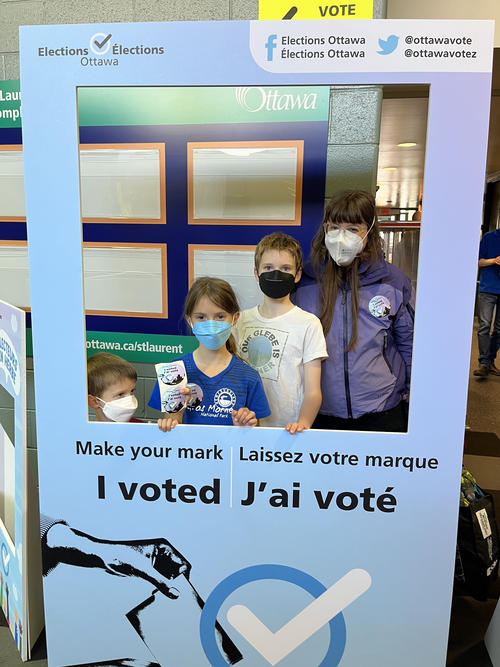 Advanced polls opened today, and it was very convenient because one of the polling stations was at the skating rink.
This year kids can vote too (and it's adorable). Kids have a special ballot to vote for their favourite part of Ottawa and they can write what they'd do if mayor for the day. Options for favourite part of Ottawa included beaches, arenas, parks and the Rideau Centre.
I thought the kid's ballot was such a great idea that I made Brendan and Elizabeth go as well. They arrived just as everything was packing up for the night, so no selfie with the voting signs but they did get stickers!
I was excited to get to vote for my friend Joël Beddows, who hopefully will kick our existing school trustee to the curb. Existing school trustee has done the bare minimum as long as I've had kids in the school system. The system is organized such that the person I vote for doesn't actually represent the schools my children attend, which doesn't help, but Marielle Godbout was so checked out of things that she was still under the impression that kids under 18 could not get a vaccine back in May. At that point it had been available for over 12 since the previous summer, and over 4 since December. Given that she had more than one meeting to determine things like "should kids in our school board be required to have a vaccine?" and "should kids in our school board wear masks?" I think it is absolutely outrageous that she had no idea whether or not it was an option. Mind you, none of her fellow councillors corrected her, or the other councillor that repeated her false assertion as fact a few minutes later.

I also hopefully voted for Catherine McKenney, though knowing Ottawa I feel this is a bit of a long shot. I do feel that Catherine is the first politician in a long time to have some legitimately interesting long term ideas. If implemented these would not only make our city a much better place to live but actually would save us a ton of money in the long term.
In addition to my friend Joël, my friend Stephanie Plante is running for municipal councilor. There are ten candidates in her ward (!) So it's safe to say that this is the most politically involved I've been ever - no lawn signs because Joël didn't have any and I don't live in Stephanie's ward but I spent quite a bit of time chatting to people I know, helped a bit with getting postal codes for Joël for mailings and making posts on social media to try and convince people of their brilliance. Kind of funny that I met both of them via our school's rapid test program!
You might also like
- Amelia is 7.5
(0.419828)
- Birthday five
(0.396781)
- Mary and Andrea visit
(0.396071)
- Double Digits
(0.395235)
- Billings Estate
(0.39217)
All