July 20, 2010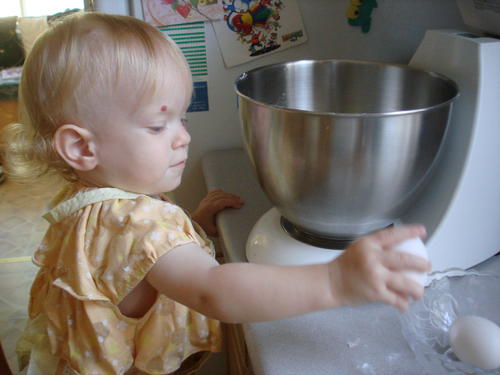 Elizabeth loves to help Mommy and Daddy.
I've posted before about how much she loves to bring Daddy screws when he's building things. But she also folds laundry, puts away clothes, wipes the floor and helps Mommy cook. Granted, folding the laundry ends up with clothes looking like a tornado passed through the laundry basket, the clothes in the drawer are just dumped together, and the floor only needs wiping because of all the ingredients she accidentally spilled on the floor, but we all had to start somewhere!
1
On July 27, 2010 at 10:14 am
Grandma H.
said:
What a nice mommy you are to let her help! Looks like she is getting a great deal of satisfaction from it, and after some practise, will be a big help, and when she is a big girl, maybe she will make you a cake!
You might also like
- Like riding a bike
(0.324149)
- Spring
(0.320537)
- Big baby in carseat
(0.320215)
- Pancake Chef
(0.313274)
- Lindsay's Baptism
(0.313175)
All