July 28, 2022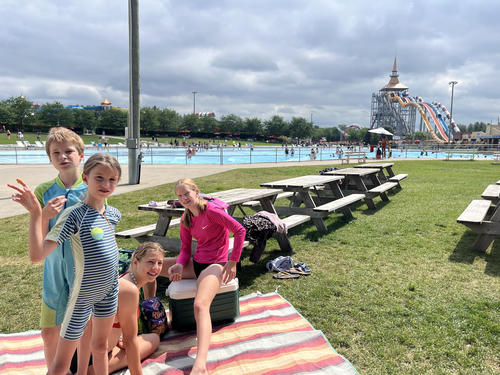 Delphine and Elizabeth really wanted to go back to Calypso, so even though the weather was not great we went.
Michael decided to stay home, and I didn't argue as it would be much easier for the big kids to do all the slides they wanted if we didn't have to worry about supervising a four year old.
We started out with the Kongo ride, which was unfortunate because Matthew had had a nose bleed that morning and the water pouring over your head at the beginning of the ride was enough to start it off again. Poor Matthew was bleeding profusely while floating helplessly around the river on a tube while I shouted instructions for how to stop said nose bleed and Elizabeth yelled at him for being gross. After that he was a little put off both the ride and anything else he thought might give him another nose bleed. Anyway, the dark part has "ooga loogas" and he found it creepy.
So we split into two groups, with Elizabeth and Delphine going off to do more intense rides and Amelia, Matthew and I going back for snacks and the wave pool. Eventually we met up again and Elizabeth and Delphine were in line to try a group tube ride when the park suddenly closed down due to threat of lightning. Amelia and Matthew and I had been going down the family rides and having a blast. Anyway, for reasons that are still a mystery to me we had to move all our stuff out of the wave pool area and wait outside the fence. It absolutely poured rain, but eventually we were given the all clear and we sprinted back to stand in line. It started to rain again and we inched along higher and higher. Amelia completely lost her nerve and started wailing about how she couldn't possibly do this ride. I explained that she didn't have to, but that I didn't want her to wait the entire time alone at the bottom of the slide so she had to stay with us until the top. This did not reassure her and she got increasingly upset until finally Elizabeth decided Amelia had scared her out of wanting to do it and now couldn't possibly try it. Delphine REALLY wanted to try the ride, but it needed at least three people and we didn't want to go with strangers. So now I was faced with an impossible decision: allow Elizabeth to bail, and listen to her complain about how Amelia had prevented her from going for the rest of the day, or make her do the ride. Matthew suddenly offered to go wait with Amelia at the bottom, saying he wasn't terribly keen either. Decision made: Elizabeth had to go. At the top I nearly changed my mind but then she told me that if either of us died or were horribly injured it would all be my fault. "Into the tube with you!" It was an incredibly frightening ride and I probably will never do it again, but Delphine loved it so it made the terrible sensation worth it. Elizabeth was determined not to enjoy herself but grudgingly admitted that we had survived in one piece.
After that they did as many slides as they possibly could. Amelia got over her fright and did quite a few more of the littler slides. Matthew went with Delphine on a few rides that neither Elizabeth nor I were brave enough to try. In the end we had a grand time.
You might also like
- Calypso
(0.482159)
- River Oak
(0.450433)
- Halloween
(0.446397)
- Family Day
(0.435814)
- Party Day
(0.43513)
All