July 22, 2010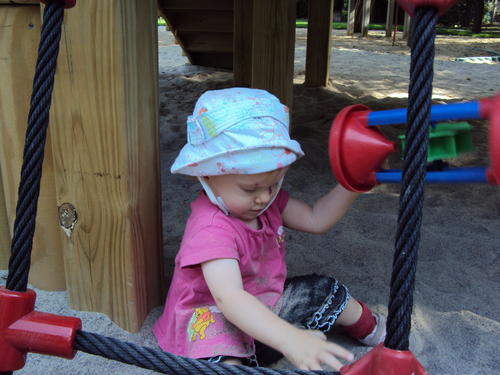 I felt strangely tired this afternoon...
The day started with a leisurely walk to the library depot to pick up our book requests. Elizabeth slept most of the way but she woke up in time to go to Sylvia Holden park to play in the wading pool. It was a hot day but the water was still very cold, and Elizabeth did NOT approve. She spent the entire time clinging to Mommy and whimpering. Even the playful dolphins peekaboo-ing behind Mommy's back didn't help. "Done", she cried. "Done."
So we got out and went and played in the park down the street. The park itself is tiny and completely filled with sand toys. Quite aside from the playstructure, seesaws and swings, there were tractors, trucks, pails, shovels and two large play kitchens.
After lunch we met up with Auntie Yukiko and the girls at the Ontario Early Years Centre. The theme was "Under the sea" and "Babies". Guess which theme the girls liked best? We wanted a posed shot of all three of them but they were too busy playing to be very happy about this idea. Sigh.
Since we really, really wanted a posed shot of the girls, Yukiko and I took them to Clare Gardens park after playgroup was over. We took some almost fabulous shots. Oh well... we'll just have to try again.
Home for a quick bite of supper and then we headed out again. Mommy and Daddy dropped Elizabeth off at Auntie Yukiko and Uncle Chris's place to play for a while while Mommy and Daddy went on a date. We watched a movie about babies at the Mayfair. The topic seemed fitting! For those not in the know Babies is essentially a documentary following four children from birth through to early walking. The four children are from vastly different parts of the world (Namibia, Japan, US, Mongolia) and it was quite interesting to see how the cultural and social differences and similarities play out in these children's lives. We thoroughly enjoyed the movie and would recommend it highly. After our date we headed back to pick up a happy but very sleepy Elizabeth and took her home to bed.
1
On July 25, 2010 at 06:43 pm
Grandpa H
said:
It's been said that mothering is a full-time job and you've certainly taken that to heart! :)
You might also like
- Sportball
(0.414035)
- Elizabeth's 9th birthday party
(0.411711)
- Cosmic Adventures
(0.409692)
- Snow, NAC, GNAG Halloween, dinner
(0.406656)
- Virtual school: Week 3
(0.398283)
All