January 5, 2023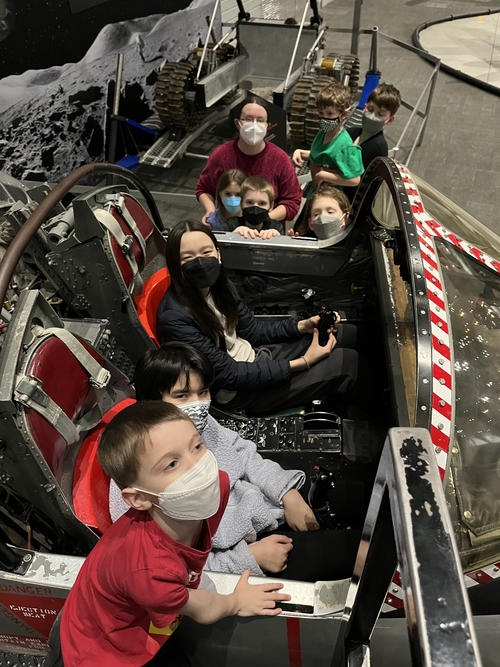 Today was Lego day. Amelia has been looking forward to opening this for "such a long time". She received a deep sea kit that she declared "adorable" because of the turtles. Michael got a "bawk bawk chicken" set and was able to follow the instructions to put it all together with very little assistance. Elizabeth was very amused by the requirement for the female farmer to remove her hair in order to put on a safety helmet when going to the market. Elizabeth received an open ended kit with a series of a half dozen or so cute critters to build. She did so and then made a few more of her own out of the leftover pieces. Matthew received a Lego technics airplane. He very carefully removed the wrapping paper but as soon as he saw the contents he could not restrain himself any further and had to rip it all open. He very much enjoyed putting it all together.

It was also Janice's birthday, so I took the day off work in an attempt to be free all day for birthday activities.
This was somewhat foiled by the holiday tournament team schedule (1-2pm) and our long awaited fridge delivery window getting moved to the 5th.
So Brendan waited around at home for the fridge while I dropped Elizabeth off at karate before heading to Janice's for cake and hot chocolate. Then we went to the aviation and space museum where I dumped the kids and turned around to pick up Elizabeth, Erika, Maria and Brendan.
It was fun to wander around the museum - Michael had no memory of it at all and quite enjoyed getting to drive the airplanes. Amelia said she didn't really remember it much either. I was surprised by how many subtle changes there were; the passenger airliner exhibit has been replaced. Elizabeth's favourite part was doing pull-ups on one of the walkways intended to allow you a closer look into the airplane. Of course it was lol.
After the museum we decorated (and ate!) cookies using edible markers.
You might also like
- Grading for a brown belt
(0.415445)
- Spartan Mud Race
(0.409729)
- Virtual school: Week 3
(0.406114)
- St Patrick\u2019s day
(0.405785)
- Starry Sunday
(0.398131)
All