January 10, 2023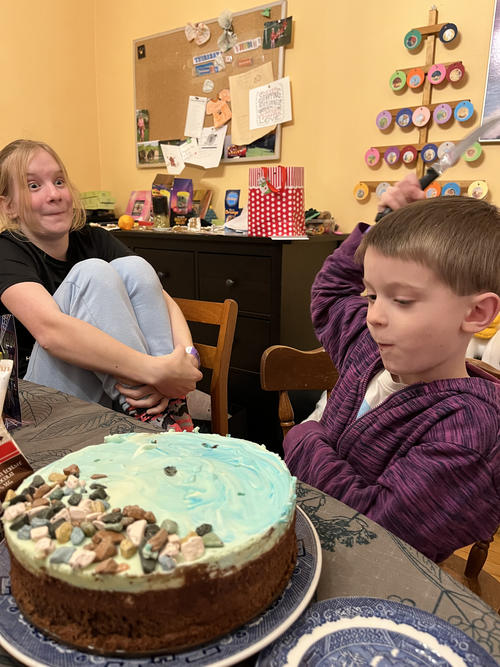 Michael suggested he might like to stay home from school on his birthday but Brendan and I both had to work so we sent him anyway. Apparently school is fun but too long, but he seemed to enjoy it even if the way his class marks birthdays is to sing happy birthday at some point. Certainly a far cry from the pinata some of the other kids enjoyed!
We'd offered him the chance to invite his classmates or any other friends for a birthday party but he was completely unable to name anyone so we never sent out any invitations. He wanted to invite his teacher from school, and his siblings, and his cousins, then his Sunday school teachers. We explained these weren't the kind of friends we meant. "Then I don't have any friends" he insisted. Despite not knowing who to invite to his party, he was very clear that he wanted to go to Flying Squirrel (our local trampoline park). I figured we'd pick a day to go and collect some kids at random but when he came home from school he announced that he was ready to go to the trampoline place NOW. Elizabeth offered to miss karate "if I have to" and so we decided spontaneous trampoline party with siblings it was. I asked Michael if he was SURE he didn't want to wait until we could invite his friends but he was sure.
Matthew and Michael had clearly been talking on the bus because they were pumped up to try the climbing part of the trampoline place as well. When we got there though, it turned out that Elizabeth is too old for the adventure park AND that one must do the adventure park second if one is doing both AND that you have to do a full two hours. This is silly - the kids probably would have been fine with half an hour jumping and half an hour adventure park and it would have worked better if we had done the adventure park first. Michael was ready to move on to the park after the first ten minutes of jumping! There was no capacity reason for the rule as far as I could see - both parts were nearly empty. Probably I won't ever pay for the adventure park again - somewhere like Cosmic is better value in my opinion. Elizabeth did have some fun helping the younger kids as an "adult", but most of it was really too small or had warnings about weight limits so the second half was a bit of a bummer for her. It probably didn't help that Elizabeth got kicked in the head by a random kid right at the end of our jumping time. The younger kids enjoyed the park though.
After our adventure, we stopped at Wendy's for some food. Michael opened some presents and we had cake!
Bedtime was very, very late.
You might also like
- Flying Squirrel
(0.488593)
- Orchestre
(0.451264)
- Je d'école
(0.444236)
- Virtual School: Week 20
(0.440988)
- Mooney's Bay
(0.439919)
All