January 2, 2023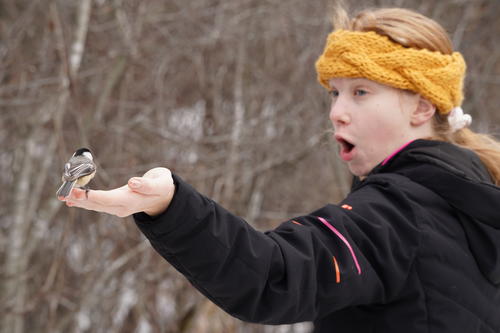 We went for a walk with some birdseed along Sarparilla Trail. The birds were pretty cooperative, with both Elizabeth and Matthew setting personal records for the number of birds landing on them. Michael had one bird land on his hand and after that he was done. He enjoyed himself instead by playing with the snow.
Amelia held out her hand for a long time, but every time a bird came near she would freak out and throw her seeds at the poor thing. Needless to say she didn't have too many birds actually land. It's hard to say who was more startled when they did!
The marshlands around the trail were an interesting shade of pink. We thought maybe related to the bulrushes, but doing a little research it seems more likely to be a form of snow algae.
You might also like
- Feeding the birds
(0.376963)
- Garden
(0.367374)
- Dovercourt
(0.359504)
- Ski
(0.357143)
- Crystal Gardens
(0.35443)
All