January 16, 2023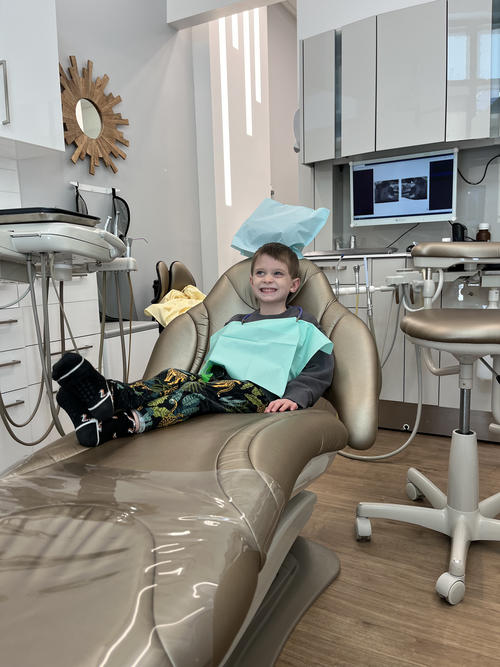 Michael went back to the dentist for another filling. I was surprised to discover he was keen to go get more "sleepy juice". Seems like the treasure chest was popular because he wanted another ball. It was a different dentist whom he liked, but not as well. The appointment itself was very efficient. I was surprised to hear that there was one more surface cavity that the dentist planned to monitor instead of filling. "Wouldn't it make sense to do it while he was frozen?" I inquired? Apparently the filling would not necessarily need freezing, but more importantly Michael was ALL DONE opening his mouth and had kept closing on the tools. So the dentist thought better to continue another time since the filling location is at the back. To be fair, it's quite tough for Michael to open wide enough for the particular area and he was very good about the whole thing. He still seems very positive about dentists. We have one more filling to do for Amelia and then hopefully that's the last dental appointment for a few months.
This week was dubbed "appointment week" because in addition to Michael getting his other filling done, all four kids had appointments with the eye doctor.
I had to work, so Brendan took them. I booked Matthew and Amelia back to back, since we can easily pick them up from school at the same time. Apparently this was by far the hardest appointment. Amelia was bouncing on the fancy chair and wiggling around while Matthew was doing his best to annoy his father and sister. Brendan said he barely managed to prevent them from completely dismantling the office.
We are pleased to report that none of the kids need glasses yet. Elizabeth's doctor was expecting to prescribe glasses this time but in the year and seven months since we last had a check up her eyes have changed very little. It was Michael's first appointment!
You might also like
- River Oak
(0.42654)
- 12 Days of Christmas: New Year's Eve
(0.417736)
- Hike in the woods
(0.417112)
- Dentist
(0.415556)
- Broken nose
(0.414286)
All