July 29, 2010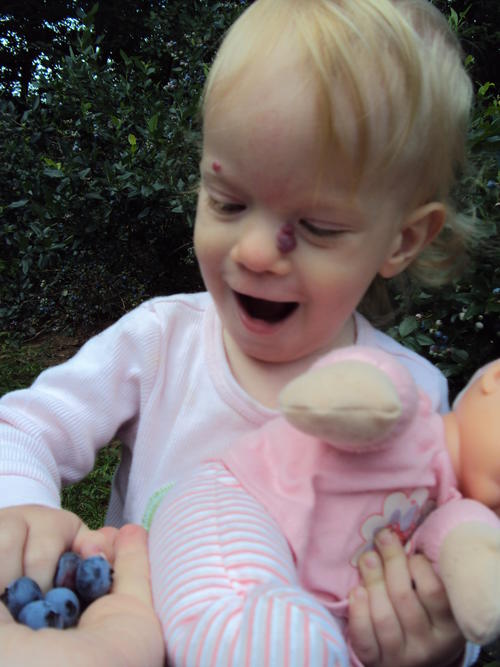 Grandma J, Elizabeth and I went blueberry picking for the first time this year at Canaan Blueberries (the place we went last year is closed for the season already!) I showed Elizabeth how to pick blueberries, and Elizabeth demonstrated the same to her baby.
Canaan Blueberries was extremely well run. I guess they have to be very organized; there were literally hundreds of other blueberry pickers scooping berries off the bushes!
1
On August 1, 2010 at 05:10 pm
Grandpa H
said:
Did Elizabeth manage to get any of them into the basket or did they all go in her mouth? :)
2
On August 1, 2010 at 08:57 pm
Mary
said:
Actually, she's not that fond of berries generally. She'll eat blueberries sometimes (especially if dried) but mostly prefers to feed them to others. As a picker she's very, very, very good at putting them into the basket.



I'd show her a berry, she'd pick it and then put it in. Or I'd pick a handful and give them to her and she'd trot down the aisle and put them in the basket and come back for more. I think she only actually ate one or two at the beginning of picking.



By the end when she was getting bored she started to "goo" some of them instead of putting them into the basket but otherwise she was surprisingly helpful!
You might also like
- Berry picking
(0.307851)
- Retirement Party
(0.296912)
- Too Berry Blueberry
(0.296296)
- A hard day's play
(0.293706)
- Berry Picking
(0.293671)
All