July 31, 2010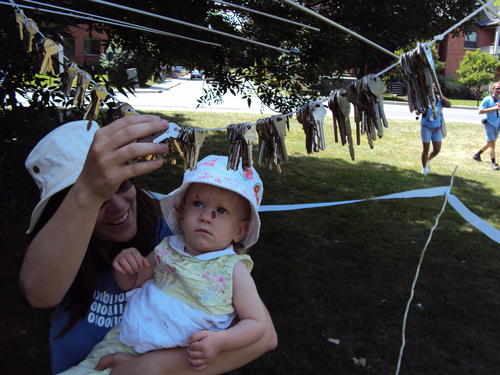 It's the Rideau Canal Festival and Chamberfest, and Musical Breeze!
Dianne, David and baby Aidan came along again. This year we managed to drag Daddy, Auntie Janice, Auntie Yukiko and cousin Erika along as well. The weather was beautiful.
The parade seemed less well attended than last year and although there were a couple of tandem bikes none of the unicycles or penny farthings came. Daddy and Auntie Janice thought it was amusing, but it would work better on a bike. They had a point! The bikes left in waves, and our little group of walkers joined the second group but were quickly left behind.
We missed most of the music from the first station, a duet between an accordian and saxophone player, but we did get to listen to the sax and bicycle bell piece.
We could have spent a LOT more time at the second station. Called the "Metal Garden", this station consisted of all kinds of metal percussion instruments. I think it would be great fun to have a permanent version of this, although perhaps not too close to my house... The members of the parade were all invited to make a joyful noise - so we did! I had great fun whacking a sponge-like paddle on the top of plastic tubes, although one might wonder what this particular 'instrument' was doing in a so-called metal garden! Brendan liked the big gong. Elizabeth seemed to like the cylinder that roared like a lion. Janice really liked the singing metal wires. It looked like a drying rack, but when you wet your fingers and ran them along the wires it made a beautiful singing noise like when you run a wet finger along a crystal glass. Actually, we enjoyed this one so much that we arrived at the next station well after our group had left. Luckily there was a group behind us too so we didn't miss anything.
Up next? Two throat singers from way up northern Quebec, apparently as far north as is possible in Quebec. It was pretty interesting. Apparently it's usually a game between the two singers. They are supposed to look at each other and hold each other's arm - the first person to stop or laugh loses. One person often acts as a leader and the other as the echo, but not all songs involve them doing the same thing. They sang about mosquitos and treated us to a throat singing competition before inviting Auntie Janice up to try herself (BRAVE GIRL!). Janice couldn't believe how chicken everyone else was - the throat singers tried pretty hard to convince "someone male" to try too but there were no takers. "How about you sir?" one asked. "Absolutely not", the man replied.
We didn't want to lose the bicycles this time, so Erika and Elizabeth were delighted to have a stroller race from the throat singers to the fourth station, a "percussion cube" full of plastic buckets and buffet serving trays, played by last year's canoe paddle guy and his group - Jesse Stewart! The percussion cube made an appearance during Winterlude too, but with ice instruments. After the group played, Jesse invited the parade to try out the cube. Many took him up on the offer with great enthusiasm.
Last stop was city hall, just around the corner. We were welcomed by a group of drummers and a fantastic bunch of xylophone guys. Elizabeth and Aidan enjoyed a shared snack break together and then we headed home to some nice ice cream.
You might also like
- Family Day
(0.465152)
- Winterlude 2010 Crystal Gardens
(0.4446)
- Cows
(0.443709)
- Piano Recital
(0.436598)
- Slides and Hogs
(0.436526)
All