October 29, 2022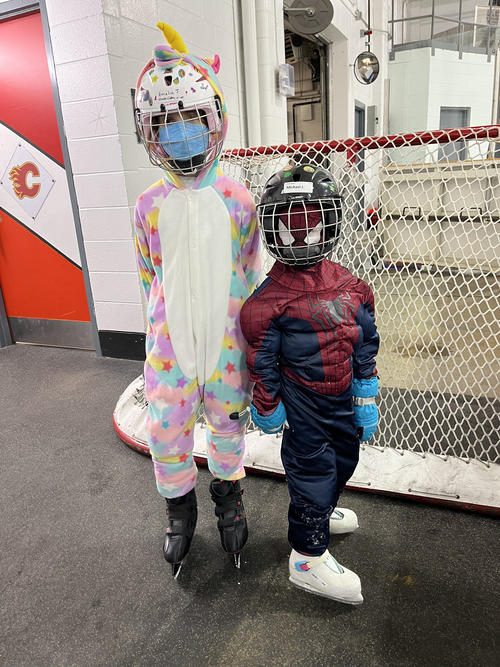 Skating suggested that today would be the Halloween dress up day. "Come in costume!" they said.
Michael tried on many different costumes, before deciding on Spiderman (which we had borrowed via our local buy nothing group). Figuring out a costume that works with a helmet is always a challenge. Matthew was still sick so he had to stay home.
When we arrived, Amelia was dismayed to notice that none of the kids leaving were wearing costumes. "Are you sure it was today?!?" she asked. I thought perhaps they had taken off costumes, but when we got into the arena it turned out that my kids were LITERALLY the only ones who actually got dressed up. Not even the instructors did the token wings or grass skirts that they used to have lying around for the skating show.
Michael did not care, because he was just excited to be dressed up, but Amelia at first flatly refused to go on the ice unless she took off her costume. However, we hadn't brought snowpants etc so that was not feasible. Eventually I and one of her teachers coaxed her on the ice.
Afterwards we went shopping. Somehow even though no one was dressed up at the store either this was not as embarrassing as being the only ones to dress up as requested at skating.
You might also like
- Grading
(0.395)
- Olympic skater
(0.386819)
- Jello bath and peaches
(0.385257)
- Camp Otonabee
(0.384115)
- Virtual Piano Recital
(0.381176)
All