July 30, 2010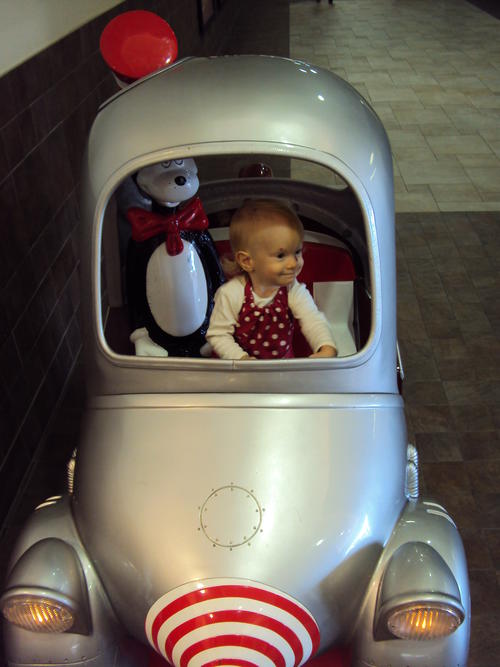 Elizabeth is now 17 months old. She weighs 8.5kg and is somewhere between 82 and 85 cm tall.
She still loves reading, looking after her "behbees", drawing, typing on the computer and playing with cars, but her style of play is getting noticeably more complex. She's communicating a lot more too and we're starting to feel like we're having actual conversations.
"Shhhh..." she'll say, pointing to her dolly. "Is your baby sleeping?" I'll ask? "No" she says. "Baby" then signs hurt. "Your baby is hurt?" I say. "Ya" she says. Then she picks up the doll and throws it on the floor. Hurt head, she signs. "Waaa" she says. "Poor baby", I say. "You'd better pick her up and give her a kiss." So she does. Such violence would be worrisome except that Erika did exactly the same thing, so we just think it's funny.
This is such a cute age and I'd totally want to freeze right here... except that it also includes temper tantrums... Frustrated, angry, overtired or even randomly in the wee hours of the night she'll throw herself wailing onto the floor and have a completely stereotypical meltdown including flailing limbs and thumping her feet (okay, so wee hours of the night was once but 4:30 am!!!)
Speaking of sleep, Elizabeth is now mostly sleeping in her own "big girl" room. She usually goes to bed sometime after 7pm, but wakes up to pee (and nurse) around 11pm. She then wakes up at 5:30 or 6:00am, but I can usually coax her back to sleep for another few hours if I let her nurse a bit. The last week or so she's been bothered quite a lot by her teeth, waking up crying and signing about how her mouth hurts. Massaging her gums seems to help, but mostly she just wants to nurse -all- night. The good news is that her last molar for now is poking through. Maybe she'll get a break for a few months soon.
1
On August 2, 2010 at 04:12 am
Grandma H.
said:
that video is so cute. The very thought of her making a mess??!!
2
On August 2, 2010 at 04:17 am
Grandma H.
said:
What an imagination already! And the baby just plays along...
You might also like
- 19 months
(0.399616)
- Two!
(0.391841)
- 21 Months
(0.386201)
- Amelia is thirteen months
(0.380753)
- 19 Months
(0.379213)
All