January 28, 2023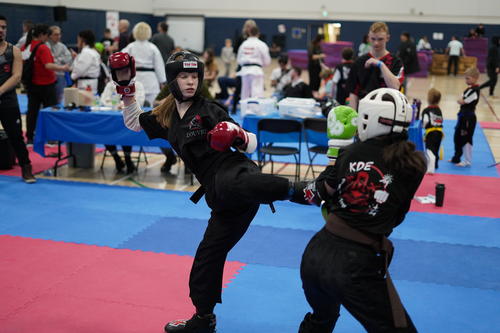 This time Erika managed to not get sick the day before the tournament so auntie Yukiko, Erika, Elizabeth and daddy all piled into the van and made their way through the sleet to Montreal.
This tournament only had a single forms division (rather than both hard style and classical) and no creative weapons division so Elizabeth was only competing in 4 divisions and Erika only in 1.
Elizabeth started strong with a silver in traditional forms, followed by a silver in traditional weapons. She had a fumble in extreme weapons (set to her new music) and the judges gave her super low scores. The fumble was honestly not that bad and the other competitors not that good so we were quite surprised. The scoring had been quite odd though for the various other divisions with some scores deviating wildly across the 3 judges (9,5,4 for example). As such we chalked this up the the judges being inexperienced and moved on. Erika scored middle of the pack but tied a very experienced competitor so she was pleased with that.
In sparring Elizabeth had 3 fights. She won her first one handily (7-4) and showed great control throughout the match. Her second fight went to overtime and her opponent scored a quick two points to win it. Her third match was immediately afterwards and at this point she was pretty tuckered out. She still fought well and scored a number of points but lost the match. While she was disappointed not to get a medal despite her great performance she quickly shook it off and went to cheer on her teammates. We've noticed a real change in her sparring over the past year. She's moved from being extremely defensive to being more comfortable and trying out many new moves in competition. She has an excellent set of technical skills and training but has until recently lacked the confidence to pull them out in the ring. As she has become more confident she's started scoring more points and winning more matches despite competing at a more and more advanced level. In these three matches she looked very calm and in control of the match the majority of the time. You could see her using more of her techniques and moving in closer to her opponents without fear. Her opponents, many of whom she has fought and lost to regularly over the years, often appeared terrified.
You might also like
- Nationals
(0.451383)
- WKC Provincials
(0.449859)
- Ontario Provincial Martial Arts Championships
(0.43996)
- WKC World Championships 2022
(0.437222)
- WKC Nationals
(0.436515)
All