January 28, 2023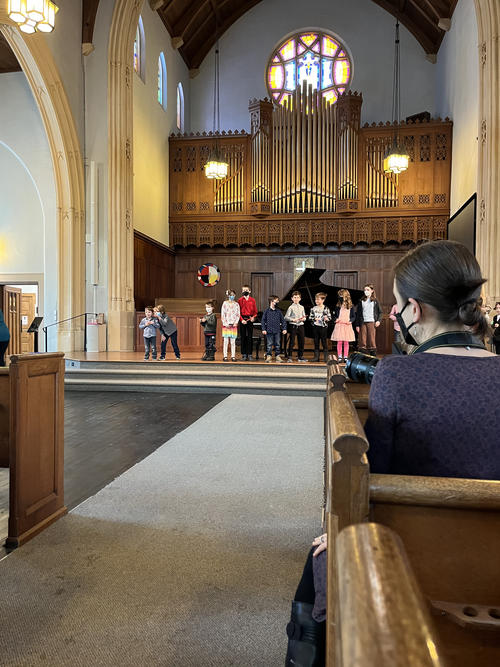 We thought about whether Daddy and Elizabeth could potentially leave for the tournament after the recital, but after doing the calculations (and remembering the stress of arriving a bit late last time) it was decided that they should leave before the recital even started.
Luckily Uncle Chris agreed to give us a ride. The kids were thrilled to have him come to listen and Grandma J was able to come at the last minute too!
Matthew was super nervous - "there are SO MANY PEOPLE" he said. "Do I have to go up? I think I might throw up."
Michael was super keen to go and play. He enthusiastically participated in all of the on stage parts. At the beginning Mrs Shana asked everyone who was going to play and he put his hand up, to the horror of his siblings. Matthew pulled his arm down, so Michael threw his other arm down. Then Amelia grabbed that arm and they both held it down. I was very amused. Michael was all "but I want a turn!". So I explained that he could have a turn at the end of the show.
Amelia and Matthew both did a decent job playing their pieces, although you could tell they were nervous (especially Amelia, who decided that she needed to bring her music despite having claimed she "didn't need it" for the last two weeks of practice)
At the end of the show we duly allowed Michael to go and play his piece but while he clambered up to the stool he took one look out at the audience and then froze. After that he decided he couldn't possibly play in front of all of those people.
The kids were very happy to get their loot bags and could hardly wait to get home to eat them.
You might also like
- Party Day
(0.426788)
- Party
(0.425188)
- Virtual Piano Recital
(0.424942)
- Calypso
(0.410695)
- 52 cm of Snow
(0.408371)
All