February 4, 2023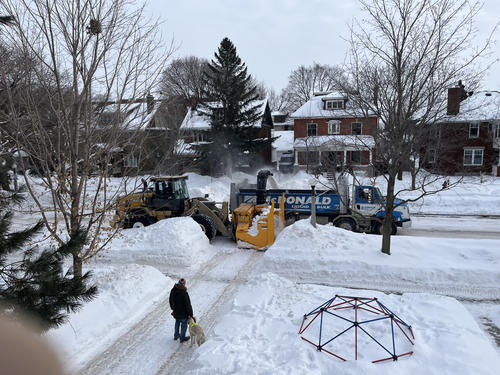 It's always exciting when the snow clearing machines come along, even if we don't think it's particularly required on our street (it's very wide). I certainly would have selected Percy first - a street that is getting increasingly one-way and difficult to navigate. I guess they have already cleared the snow on Percy once and are still finishing the first round, but I think some streets should take priority even if they HAVE already been done once. But I digress.
It's particularly exciting when snow clearing is slated during daylight because then you don't get woken up in the wee hours of the night. On the downside, we have a number of activities during the day on Saturday. Matthew's riding class was cancelled due to the extreme cold but Elizabeth still needed to get to karate so we were out and about and every time we came back to the house of course there was a new berm. Normally we just circle the block and wait elsewhere for half an hour or so but due to challenges with their dump trucks the process actually took hours. This was not really an issue though, because there was the best sidewalk plow guy ever, who noticed me hovering and after collecting my house number plowed a path so I could get home. Later when I had to get out again, he came and plowed me out!
We were fascinated at one point when one of the snow trucks carefully wiggled itself into the middle of the street and dumped the entire load. I sadly wasn't close enough to get a photo of the snowfilled basket high in the air. I asked Lauren if she knew what it was doing as it was in front of her house - "Spite dump?" she replied lol. Turns out it had suffered some kind of mechanical failure so there was a delay while the tow truck came and pulled it away, and a delay to clear the snow out of the way so that the rest of the snow trucks could make it down the street on their way out to the snow depot.
You might also like
- Mooney's Bay
(0.407216)
- Home again, home again
(0.402165)
- Big Baby Bed
(0.399393)
- Calypso
(0.397424)
- Old fashioned family day
(0.397108)
All