February 25, 2023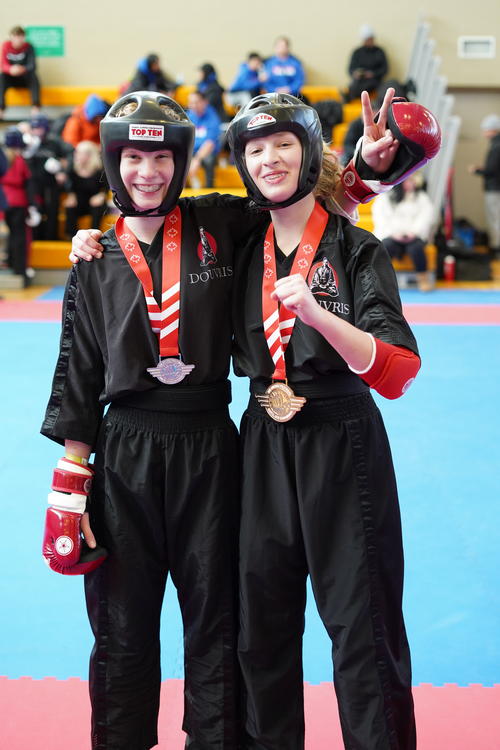 Daddy, Elizabeth and Erika all headed down to Burlington for the Ontario Provincial Martial Arts Championships (not to be confused with the WKC provincial qualifiers which are coming up on April 1st). Auntie Yukiko wanted to come too but was still not feeling up to it after having had Covid a few weeks ago. We stayed with auntie Muriel and had a lovely time catching up.
At the tournament they decided to run the divisions in an odd order which meant that Elizabeth had to change between nearly every division. While annoying she and her valet (Erika) did a great job and it wasn't even really obvious that she was off changing in terms of the proceedings.
Elizabeth opened with a gold in traditional weapons. She followed up with a bronze in traditional forms, bronze in a combined open weapons/forms division and 4th in creative weapons. The divisions were quite large with pre-covid levels of competitors. We also saw Eccia for the first time in ages. Apparently she took a year off to do acting and stunt work.
The real excitement came with the sparring division. There were 10 competitors in the 13-14 division. Remi opened with a 10-0 win. Elizabeth followed with an 8-0 win. Remi again clobbered her second opponent and Elizabeth did the same. That put the two Douvris teammates in the final for Gold/Silver. The head ref (who has seen them both many times) looked at them both smiling after having watched them decimate the rest of the field and said "you two are going to go easy on each other right?". The girls replied with a grin "maybe...". Remi won the gold and Elizabeth the Silver but after the match everyone was all smiles and super excited by the tremendous performance of skill that both girls put on. There were many high-fives, hugs and fist bumps from all the Dourvis teammates who had been madly cheering them on from the sidelines. Elizabeth said afterwards that the highlight of the tournament was definitely the sparring.
Erika had a very respectable traditional forms performance but a slight wobble cost her a chance at a medal against a large field of experienced opponents. She ended up around 5th.
You might also like
- WKC Provincials
(0.442991)
- Karate tournament: Challenge Rive Nord
(0.43996)
- WKC Provincials
(0.425486)
- WKC Worlds
(0.421675)
- WKC World Championships 2022
(0.419383)
All