February 18, 2023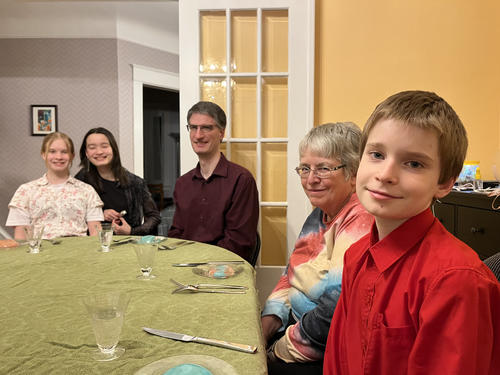 Our annual winter feast was tonight, with the most guests ever (!)
Auntie Janice, Angie, Erika and Grandma Margaret all joined us for dinner.
The menu had been hotly debated, but in the end we went with as easy as possible. I slightly overcooked the chicken but overall the meal was very good.
Elizabeth, Angie and I made the jello at the very last minute. Elizabeth discovered the meaning of a needle-stick injury.
Starter (Hors d'oeuvre): Angie made delicious Parmesan broccoli stem and kale stem bites in a yogurt based dip.
Potage (Soup): Grandma made dumpling soup
Fancy Jello
Poisson (Fish): Salmon with cream cheese on zucchini slices
Entrée: Steamed green beans, roasted garlic potatoes and baked chicken. Janice had shepherd's pie with beans and sweet potato.
Store bought Triple Berry Sorbet as palate cleanser
Salades: Lettuce with avocado, egg, baby tomatoes, feta cheese and croutons, drizzled with caesar salad dressing.
Fromage: Baguette with strawberries, cranberry goat cheese, brie and cheese curds.
Dessert: Mini gourmet cheese cakes, which were tasty despite coming out of a frozen box.
After dinner we sat by the fire. Every good dinner party ends with karate in our dressing gowns, right?
You might also like
- Not Winter Feast
(0.426129)
- Winter Feast
(0.384193)
- Winter Feast
(0.368119)
- Winter Feast
(0.358725)
- Canada Day
(0.322928)
All