March 25, 2023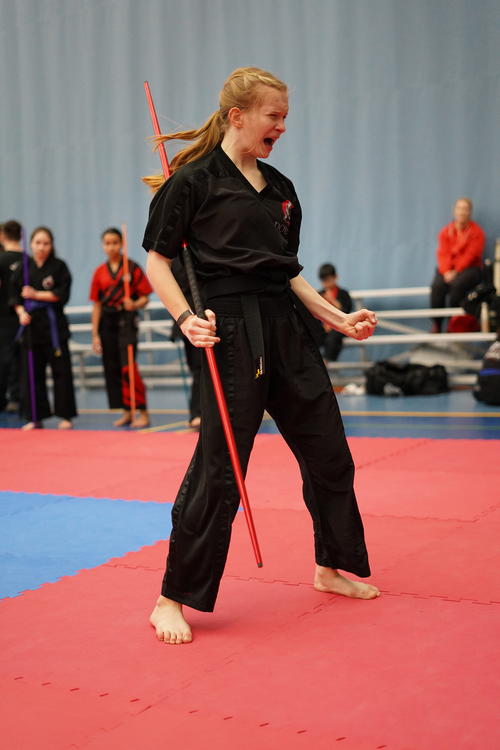 Another Sunfuki tournament means another trip to Montreal.
With a good turnout from Douvris the girls had lots of fun cheering on their teammates in between warming up for their divisions. Daria was back competing but not in the same age bracket as Elizabeth but rather in Erika's one as this tournament was based on age at the date of the tournament not age January 1st. We were somewhat amused to realize that Elizabeth and Erika could actually be in the same age bracket for some tournaments next year.
Elizabeth signed up for 7 divisions this time including her new extreme kata. With provincials next week this was basically a practice run.
She opened things up with a bronze in classical forms. We suspected some possible favouritism from the judges for the home team but Elizabeth didn't seem to care as she knows this is just a practice run. Hard style she came 3rd again. Traditional weapons she came 4th. She got a silver in creative weapons. Her new extreme forms won her a gold as the only competitor, but at least she got to practice it. Extreme weapons won yet another bronze. In sparring Elizabeth lost a very close match 5-7. She then got to run through her extreme forms routine again in grands which she obviously didn't win but the extra practice was good.
Erika had a tough tournament and didn't place in both classical and hard style forms.
After a ridiculously long day we then drove back to Ottawa very slowly through a raging snow storm.
You might also like
- Karate Tournament Sunfuki Mania
(0.421965)
- WKC Provincials
(0.418023)
- Grand Slam WKC virtual worlds qualifier #4
(0.417303)
- WKC Provincials
(0.403636)
- Inhouse Tournament
(0.402743)
All