February 20, 2023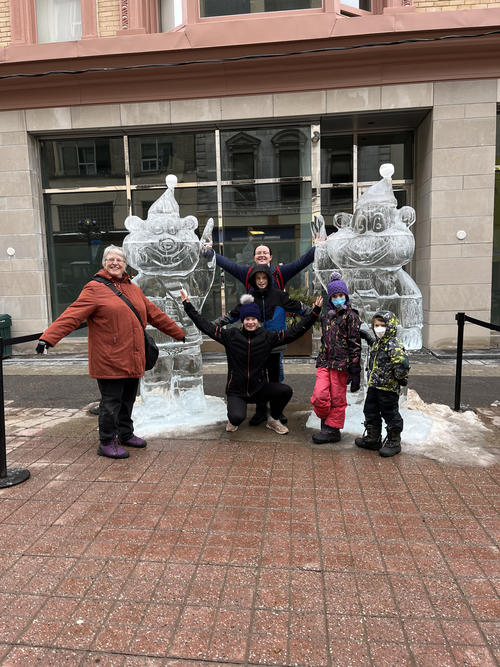 We thought we'd go see if there were any ice sculptures or activities during the official winterlude slot with Angie. There were beavertails and maple taffy for sale, a few nice ice sculptures, a lonely busker of dubious interest and free hot apple cider. There were a few signs of things to come but I was really struck by the lack of fun stuff to do and to look at. Sure, we didn't go to the Jacques Cartier site, but this location lost a lot of appeal for me when they did away with the ice slides and kept only tubing - we can go tubing other places if we want to and the ride down is much longer.
By the time we wandered back to city hall, it had changed from a wasteland of Rink of Dreams + Beavertails and nothing else to a bunch of mascots and some activities. So perhaps the afternoon plan for Winterlude was less lame.
Regardless, I think the winterlude organizers need to figure out how to make a compelling winter festival that doesn't rely on the canal to do all the heavy lifting.
Nonetheless, we did enjoy ourselves.
You might also like
- Mooney's Bay
(0.338636)
- River Oak
(0.33809)
- Birthday party
(0.333333)
- Great Glebe Garage Sale
(0.333333)
- Crystal Gardens
(0.333333)
All