March 11, 2023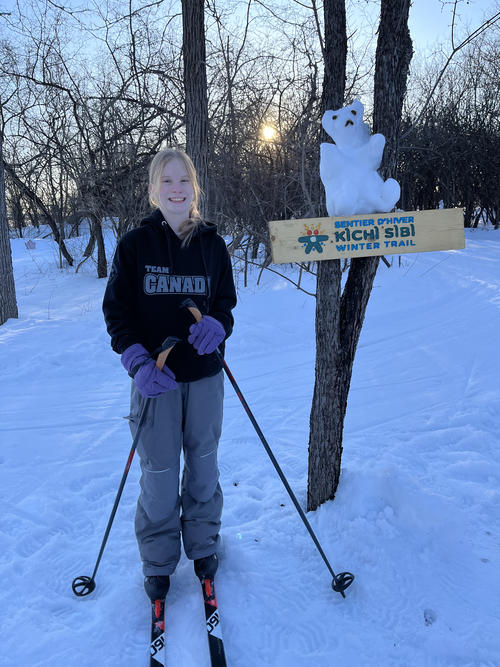 Elizabeth and I went cross country skiing today. The other kids didn't want to come right away so rather than insist I decided that today would be a good day to just go the two of us at our own pace.
Elizabeth was delighted at the prospect of not having to wait around and lift Michael back onto his feet, although there was some teasing that she might still have to lift me! Despite the very warm and melty snow, the conditions were pretty good and we made very good progress. We were about to turn around when I realized we were almost to the bridge by Remic Rapids. We've skiied just past said bridge coming from Remic Rapids. "Wouldn't it be fun if we could say we've skiied from Remic Rapids to just past Westboro beach this year?" we thought. So we kept going. The trail split into two, heading into a little wood. It's always fun to ski through the woods, so we decided to do a little loop and turn around when to my delight I suddenly spotted a snow bear! Then Elizabeth spotted another!
I knew the bears existed but didn't realize they were in this neck of the woods. It was pretty magical skiing from bear to bear through the woods - they are all different.
By the time we got to the end of the trail, we suddenly realized that although we were more than a kilometre a way from the car by the trail, it was actually parked just across the street. So we decided to cheat. We started looking for a light to get across Sir John A MacDonald parkway (SJAM) but since I didn't have any idea of whether there was a trail on the other side or if we'd be walking a distance along the road we eventually gave that up. As soon as we located a break in the fencing we skiied along the side until there was a place with good visibility on either side, took off our boots and ran across the road hooting and hollering as soon as there was a break in the traffic.
It was probably the highlight of our winter this year, so Elizabeth said we had better go find the bears again with her siblings before the snow melts.
You might also like
- Calypso
(0.419421)
- Party Day
(0.415318)
- Rachel and Andrew
(0.41129)
- River Oak
(0.410256)
- Pie Day #2
(0.406459)
All