April 1, 2023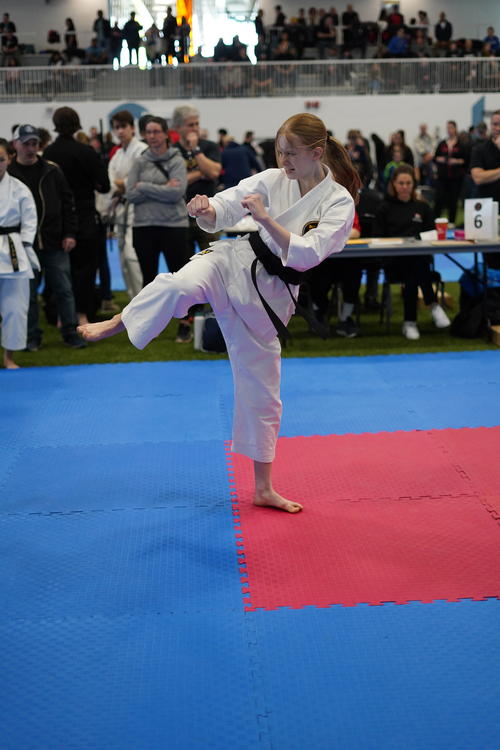 Erika, Elizabeth, Daddy and auntie Yukiko all headed down to stay with auntie Muriel for the weekend in order to participate in this year's WKC provincial qualifier. The weather somehow managed to find some more snow to fling at us but we made it safely to Toronto.
Early in the morning we all headed over to the venue as Elizabeth started bright and early at 9:00am. The divisions were large and as such they went through two rounds for both hard style and classical forms. Elizabeth did not qualify in either of these much to our and everyone else's surprise. It was suggested by some that the judging was somewhat of an April fool's joke, but that's a story for another time. Being the veteran competitor that she is, Elizabeth brushed this aside and proceeded to qualify in all her other five divisions. She placed 4th in traditional weapons, 4th in creative weapons, 2nd in extreme weapons, 2nd in extreme forms. Her extreme forms routine is starting to look pretty solid.
After the forms and weapons divisions everyone got ready for sparring. Elizabeth and Remi both beat their first opponents with solid matches and ended up facing off for the gold again. Remi won but it was a much closer match (5-3). Elizabeth continued her trend of showing more control and comfort in the ring. The girls were very pleased to take gold and silver in sparring together again.
Erika sadly did not qualify in either of her divisions but she and Elizabeth will get another chance in the team forms which don't have a qualifier and go straight to nationals.
You might also like
- WKC Provincials
(0.468557)
- Karate tournament: Challenge Rive Nord
(0.453527)
- Ontario Provincial Martial Arts Championships
(0.443701)
- WKC Nationals
(0.427996)
- WKC Provincials
(0.427851)
All