March 29, 2023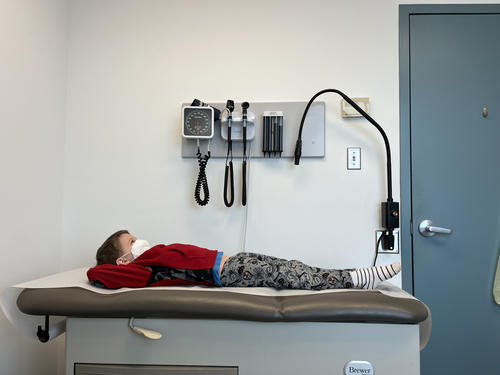 Michael has been coming home wet for the last couple of weeks and we wanted to check it out in case of UTI or other things, so today we went to visit his doctor.
He reported afterwards to his siblings: "I went to the orthodoc and I peed in a cup and then I went to the blood bath". Amelia said "You did not go to an orthodoc". Michael: "Okay, then I went to the dontist. It's like the dentist but you don't get a toy."
(Context: Amelia and Elizabeth recently went to the orthodontist and Michael was very taken by the sound of the word)
The "blood bath" referred to is the lab we went to for bloodwork. Michael was very cooperative, although when the lady asked him which arm he did say "Neither, please".
Michael had had a bit of a temper tantrum in the car, so I started telling him a story about Oscar the Octopus based on a viral video I saw about an octopus squeezing itself out an impossibly small hole in a boat. I showed him the video while he was getting blood and the techs were so interested that they found him a special Octopus sticker.
You might also like
- Fish
(0.34953)
- A week of appointments
(0.349227)
- Museum of Nature reprise
(0.34214)
- Jaundice
(0.339839)
- Piano Recital
(0.337802)
All