August 12, 2010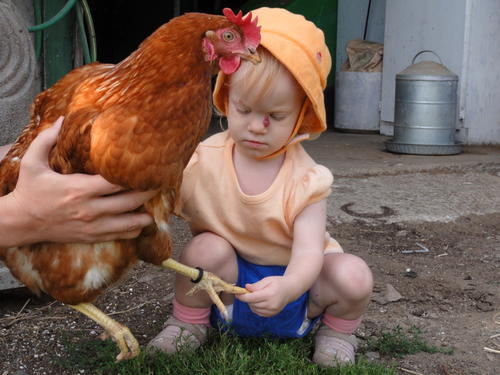 One of the things that we particularly love about the cottage is all the animals. It's quite an experience to call "here chicken chicken chicken" and be surrounded by a couple dozen hens! Elizabeth and I spent a lot of time chasing the chickens. Occasionally Mommy would manage to get close enough to catch one for Elizabeth to pet. They are so soft! At least most of them - a couple were missing feathers on the back and were almost bald. The chicken equivalent of abused spouses, they'd come to Bondi Village to recoup after getting pecked by the rooster from their old flock. Bad rooster.
The white chicken is a special comb-less Japanese chicken that lays green eggs. I promise I'm not making this up! The eggshells are a very very pale green. I helped collect the eggs one day, even taking the eggs right out from under the chickens, who couldn't have cared less. Elizabeth was not quite brave enough to help but maybe next year... When we went home we got to take a dozen very fresh eggs with us. They were wonderful!
Elizabeth and I also helped with pony fitness exercises, petting the pony, bravely sitting on the pony for up to five seconds at a time and then going for a pony ride in the cart on Mommy's lap.
1
On August 20, 2010 at 05:02 pm
Marie Smith
said:
Elizabeth is growing! The farm looks like fun
You might also like
- At the Cottage
(0.38822)
- Cottage Arrival 2019
(0.375489)
- Cottage Days: Support boat
(0.373434)
- River Oak
(0.371648)
- Cottage Days: Santa's Village
(0.367117)
All