August 14, 2010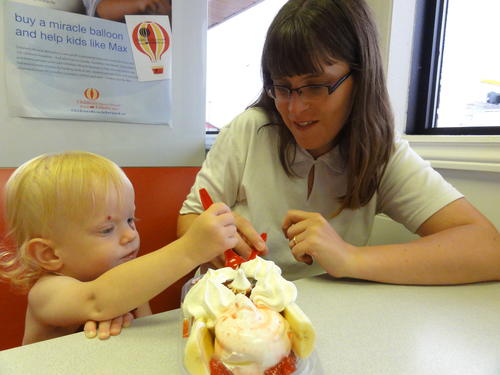 Last day for us at the cottage was very exciting because cousins Maria and Erika arrived and we spent the afternoon together.
"Oh Elizabeth", said Erika. "I DID miss you!" Elizabeth was on the verge of taking a nap before Erika and Maria arrived but all thought of sleep vanished once they showed up. Lots of wild excited giggling, screaming and running instead.
Maria was so funny, crawling deliberately into the waves until she couldn't get any deeper without going underwater. Even A big contrast to Elizabeth who only braved the water to follow her beloved Erika who went out swimming without her!
On the way home, Elizabeth was so tired that she stuffed her alligator snack into both cheeks and promptly fell asleep mid-chew to the great concern of her parents. "Chew Elizabeth", I said while shaking her awake. She opened her mouth and chewed once, and promptly fell asleep again. No amount of shaking worked this time, and concerned about choking we pulled over and Mommy fingerswept Elizabeth's mouth. She must have flown around the whole world more than once because she did not wake up.
When she finally woke up we stopped for her first Dairy Queen banana split. Elizabeth was very impressed.
You might also like
- Marathon swim
(0.379913)
- Pooh Sticks
(0.372881)
- 52 cm of Snow
(0.372748)
- Spartan Race
(0.36891)
- London
(0.368836)
All