August 24, 2010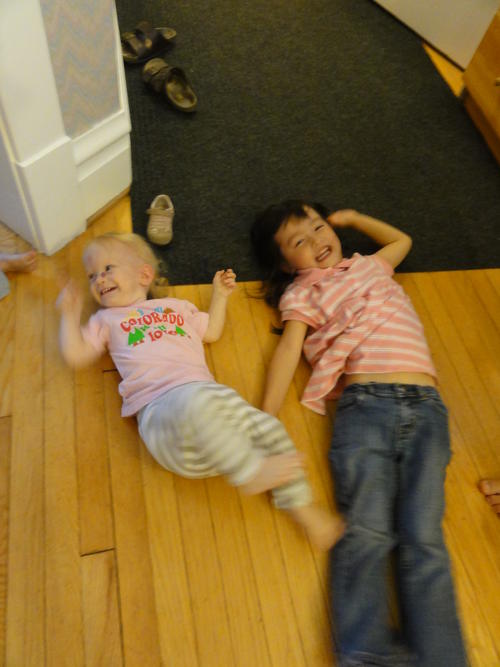 It's been a while since Elizabeth posed with our Vegetable Christmas vegetables. She was much more cooperative when she couldn't get away, but sneaky mom gave her vegetables to admire and sang "Sleeping Bunny" and "If you are happy and you know it, clap your hands" which distracted her long enough to take a couple of shots anyway. Only a few tomatoes were gooshy afterwards.
Then cousin Erika came over to paint a t-shirt and bake brownies as a reward for calmly getting her vaccination (last time she apparently hid under a table). Maria had to settle for aquadoodling with water on the floor. Both babies were very interested in helping Erika but between Brendan, Yukiko and I we did manage to run more or less effective interference on Erika's behalf.
T-shirt complete, Elizabeth and Erika settled down to some serious running around and playing together. By the time Erika and Maria's Daddy came to take them home, Elizabeth and Erika were rolling around on the floor hugging and giggling uncontrollably.
1
On September 1, 2010 at 07:13 am
Grandma H
said:
Cousins are so much fun!
You might also like
- Study in Motion
(0.360955)
- Mother's Day
(0.35258)
- Piano Recital
(0.346939)
- Do you ever feel like a gerbil?
(0.346003)
- Elizabeth is eight
(0.34174)
All