August 29, 2010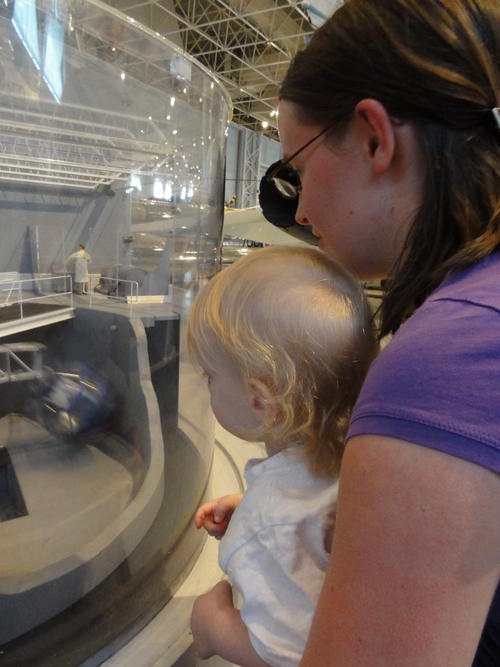 Auntie Janice declared it perfect kite flying weather and so Elizabeth, Janice and I bundled ourselves into the car and headed out to the Museum of Aviation. We were just a few minutes too late to see the airshow but Elizabeth had fun "flying" a helicopter inside to the point that I had to carry her out kicking and screaming when the museum closed for the evening.
Then we settled down to the serious business of flying kites. Between us we had three, including one shaped like an airplane that Brendan and I bought on our honeymoon (This is also the last time I can recall flying a kite!) Elizabeth was fascinated. The first kite went up very easily and stayed up so well we decided the car could probably handle it while we got the others airborne.
Shortly thereafter the kite broke free and Janice had to run after it like a crazy lady. But she did catch it. This was probably just as well since we don't think the helicopter pilot above us would really have appreciated having to dodge a runaway kite! After tying it more firmly to the steering wheel, the car flew the kite for the better part of an hour.
Oh, and I can now boast that I am able to breastfeed while flying two kites simultaneously.
1
On September 2, 2010 at 04:04 am
Grandpa H
said:
My first thought was that the car was moving and this was a new form of unmanned parasailing... It's a relief to surmise from the photo that the car was actually flying the kite while parked :)
You might also like
- End of an Era
(0.370987)
- Kichi Sibi Trail
(0.37062)
- Mommy denial
(0.369128)
- Mommy dear, I NEED to see the cows
(0.367403)
- Crystal Gardens
(0.366947)
All