August 31, 2010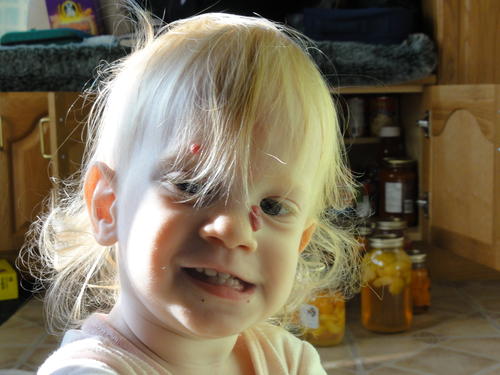 I've been trying to convince Brendan that Elizabeth needs a haircut. I think this latest set of pictures proves my point!
The question is: should she have a fringe? Or a part down the middle? Or a part on the side? Are we about to choose the hairstyle she will have for the rest of her life?
1
On September 3, 2010 at 01:03 am
Yukiko
said:
I bring Erika to my friend/hairstylist since she was 2 years old, as I have absolutely no sense of cutting somebody's hair! It's $10 and $5 only for bangs.




2
On September 3, 2010 at 03:49 am
Grandpa H
said:
Guessing at her character 15 years or even 5 years from now, there's no danger her parents will choose her lifetime hairstyle ;)
3
On September 3, 2010 at 07:01 pm
Grandma J
said:
My experience is that parts of any sort are very difficult for small children to cope with. At her age, simply cutting her bangs makes the most sense. I'm sure she'll have strong opinions about her own style in a few years.
You might also like
- Packing List
(0.302198)
- Chopsticks
(0.29003)
- Photo day
(0.289902)
- Milk milk everywhere
(0.282738)
- Skating with Angie
(0.281337)
All