September 3, 2010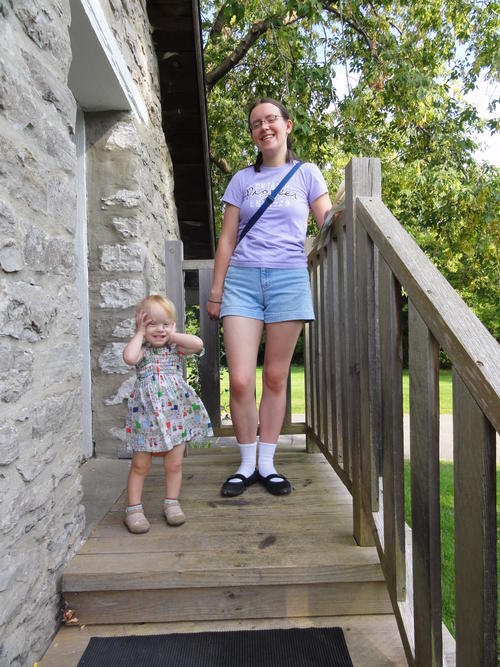 I've tried to go to Billings Estate Museum two or three times already this year but they've been closed every time. So imagine my dismay when Auntie Janice, Elizabeth and I arrived at the museum with our free library pass only to find the "closed" sign hanging on the post.
The website claimed they were open so we went up to inquire. It turned out that the sign lied and not only was the museum open, but we could even have a guided tour as long as we were willing to listen in french.
The museum is about to close for the season except for special events, so I was quite pleased to be able to take a tour, especially since the guide told us that the exhibits are soon to be updated. We quite enjoyed the special voting exhibit upstairs, although I was distressed that a significant number of visitors to the museum apparently voted "no" to the idea of women having the vote. Hopefully in jest! Inside the museum Elizabeth probably enjoyed the upstairs exhibit the most. She got to colour on the back of a voting ballot (very nervewracking to let a small child have a pencil in such a location though!) and help Auntie Janice vote.
Auntie Janice and I were in awe of the fabulous quilt hanging in the main hallway. The tour guide didn't seem to know much about it unfortunately - she seemed rather bemused at how many pictures we took of the thing before commenting that we'd come back after the tour to photograph it "properly".
The house itself is the former home of one of the oldest and most important families in Ottawa (the Billings family), and the downstairs is divided into four rooms each decorated to represent the four different generations that lived there. The first room was representative of Braddish and Lamira's first home. They had nine children, seven of whom survived to adulthood, and all of whom slept in one room in the attic. As usual when visiting a historic home I'm always amazed by the difference between how much space was considered adequate then and now. When Braddish and Lamira passed on, the house went to daughters Sally and Sabra who had looked after them, because all of the sons had established their own households by then. Sally and Sabra split the house in two, with kitchens on each side. Sabra turned down at least fifteen offers of marriage, apparently because she valued her independence and voting ability (being a female unmarried property owner gave rights that she would lose if she married). No word on whether Sally ever had any marriage proposals.
When the time came for the house to pass to the next generation, Sally and Sabra left it to their nephew Charles. This was during the time of the Great Depression. Charles was known for his great generosity and desire to stimulate the local economy. In fact, he never had electricity put into the house because he was too busy spending money on improving life for his tenants. Charles scandously married his servant, so their children could not inherit the Billings estate. Instead Charles' nephew Charles inherited. As the tour guide commented, he's only important because he sold the estate to the city four months before he died because his children lived elsewhere (Toronto and England).
After our tour, we headed outside. I've actually been there before a couple of times in the evenings to see Uncle Mark perform in the young Shakespeare plays, but it looks quite different in the daytime. We took the self-guided tour of the grounds, minus the well which we just couldn't locate. We thought the icehouse was pretty interesting. In addition to housing ice prior to refrigeration and cooling butter, this tiny little room was also used as a dwelling although Janice didn't think much of that idea. They also had a smokehouse and their own graveyard (140 people are buried there!) It's hard to imagine how much that area has changed in the last hundred years or so. Apparently the living room even had windows designed to open outwards instead of inwards in order to accommodate a coffin because the dead would lie in state right in the home. Our house is much newer, but I confess I did wonder if anyone ever conducted a viewing in our house given that it seems to predate funeral homes in this area!
All in all, this is a nice little museum, although I'm sure Janice and I found it more interesting than Elizabeth did!
Unless you head to this museum in the next week, you'll have to wait until next season to go. I recommend a nice day so that you can take advantage of the beautiful grounds - I think it would be a wonderful place for a picnic.
1
On September 10, 2010 at 10:27 pm
adventuresinbabywearing
said:
Oh how neat! I love her dress by the way!



Steph
You might also like
- Sewing with kids
(0.478011)
- H1N1 Rock Concert
(0.477258)
- Doors Open Ottawa
(0.474375)
- Homeschool wk may 11-15
(0.472436)
- Vanier Museoparc
(0.470463)
All