September 11, 2010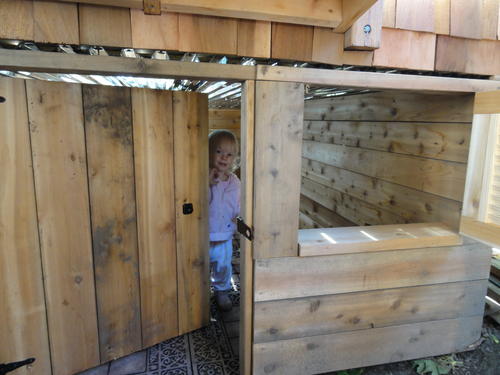 Our brick desperately needed repointing and the weather was FINALLY just right (not too hot, not too cold and not raining) so we spent the entire day outside. Elizabeth was desperate to help. She bothered Daddy on the ladder for a few minutes but although she would have been thrilled to spend hours clinging to his knees Mommy and Daddy didn't think this would be very helpful.
So Elizabeth and Mommy worked in the garden and played in the playhouse. At first Elizabeth was not keen to play in her house by herself but that has worn off now and Mommy isn't always welcome (and no, I am NOT ready for that stage...) We have a new game where I knock on the door and she giggles and runs away. Then I open the door and say peekaboo. She runs to the door and slams it in my face and runs away again. She got so giggly that she couldn't walk straight! I'd upload a video, except that we haven't figured out how to use videos from our new camera.
1
On September 15, 2010 at 04:51 pm
Rachel@GraspingforObjectivity
said:
That is a nice HUGE playhouse!! FUN!
2
On September 18, 2010 at 05:27 am
Grandpa H
said:
Hilarious! But do you REALLY want her attached to the idea of her own private space just yet? ;)
You might also like
- First Snow
(0.351032)
- Big Bed
(0.346883)
- Christmas Day 2: PJ Day
(0.345794)
- Apple Picking Reprise
(0.343832)
- Cottage Days:Cousins
(0.343001)
All