September 18, 2010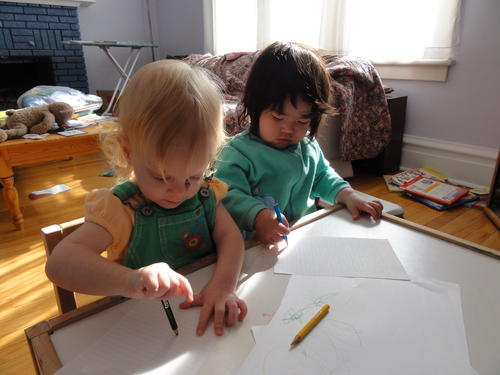 Cousin Maria came to play this morning while her sister and Daddy were at Japanese Saturday school. Elizabeth was very excited that her "Aya" was coming but didn't understand why her "Tata" (Erika) didn't come in too.
The two girls played very nicely together, but whatever one was doing, the other had to do as well. Maria needs to go upstairs for a diaper change? Elizabeth wants "too". Is Mommy carrying Maria? Elizabeth wants "bup pees" (up please).
We made pancakes and despite two enthusiastic helpers there was only a slight mishap in the shape of batter all over Maria and the floor. Maria ate two or three times the amount Elizabeth did, but everytime Maria wanted more, so did Elizabeth, even though Elizabeth still had lots of food on her plate. Elizabeth started taking a bite out of each banana piece in order to try to keep up, but no dice!
After pancakes the girls coloured together, read books together and danced with their toys together. There was a lot of giggling. Then Maria seemed tired so we tried to have a nap together. Maria lay down, closed her eyes and went to sleep right away. Fearing that Maria's nap would be disturbed by the jack-in-the-box that was Elizabeth, we went to have some quiet time in the room next door. So much for monkey see, monkey do...
1
On September 23, 2010 at 07:27 pm
Grandma H.
said:
How boring if we were all the same! Very sweet to hear about them playing together. Oh, and the jack-in-the box comes by it naturally.
2
On September 23, 2010 at 08:46 pm
Yukiko
said:
So nice to know how they played nicely. Thank you for having her! :) It is very nice that we are so close and can share the precious time together. It should be my turn to have Elizabeth here!!
You might also like
- Recital, Home Depot, movie night
(0.396509)
- Strike Day
(0.384248)
- Boston
(0.378875)
- First Sleepover
(0.376623)
- Kitties
(0.375931)
All