September 25, 2010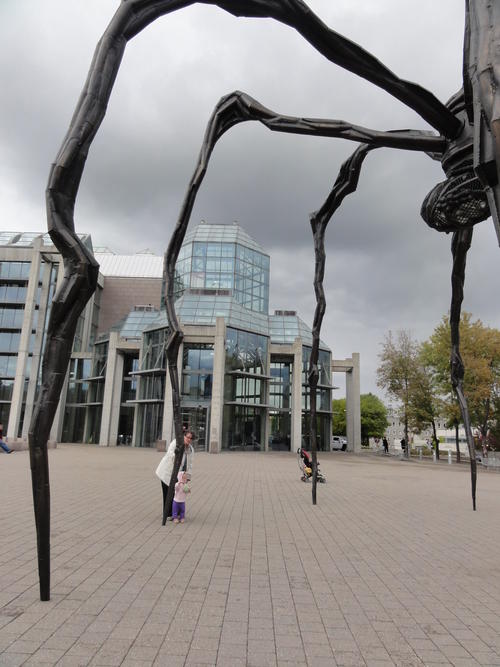 Great-Aunt Mary visited for a couple of days while enroute from Pangnirtung to Russia this weekend.
While she was here, we decided to visit the National Art Gallery since it's on my list of museums to visit for my New Year's resolution and she couldn't remember having been there before. I know I've been once before with my mother-in-law, but it was so long ago that I don't remember any of the details and the building didn't seem at all familiar.
It's a very beautiful building, with lots of places to sit and contemplate. The hushed atmosphere and the many many things that shouldn't be touched mean this is not the easiest museum to visit with an active toddler, but Elizabeth was very well behaved. They do have a couple of different children's programs but they are meant for children who are at least three years old. Over the course of a few hours Elizabeth, Great-Aunt Mary and I saw pretty much everything there was to see, missing only the Rideau Chapel (somehow we walked past the entrance!)
We went with some specific goals in mind. Mary wanted to admire as much Group of Seven as possible; we both wanted a glimpse of the (in)famous "Voice of Fire" and I was kind of hoping to see Ron Mueck's giant baby ("A Girl") that caused a stir in Ottawa a few years ago.
The Group of Seven collection was wonderful, as expected. Elizabeth was mostly interested in anything that had pictures of dogs ("Bow wow wow!") or babies. Otherwise she went running from chair to chair to chair, but only in those rooms where the art was hung high enough that I figured she wouldn't be able to reach. Just in case!
We also really enjoyed the Inuit art. When we checked the artist name for the first piece we saw, Mary discovered that he was from Pangnitung too and so she knew who he was! One of my favourite pieces is on exhibit in this section - Nunali by Jackoposie Oopakak is a stunning piece of carving out of caribou antlers. I figure this sculpture was worth the price of admission alone, but if you can't get to the museum there's a picture behind the link.
We did get to see the Voice of Fire but neither of us were terribly impressed. $1.8 million may be "a bargain" for art but Mary is sure she could paint something just as good with a bit of painter's tape, and I'm sure that many of Elizabeth's creations would not look out of place hanging on the walls in that part of the museum. Maybe she's going to make us rich!
There were a few "modern" pieces that we thought would be very interesting wallpaper or quilts. The random snowshovel may get people talking, but we remain of the opinion that hanging random objects on the wall does not magically transform it into art. Mary didn't think much of the HIV pill work either, although we both liked the collection of vertical grid of barbed wire that looked like it was floating and the glowing glass/crystal/wire chandelier sculpture suspended over a mirrored floor covered in mirrors.
Sadly, I didn't get to see my giant baby. The contemporary art is apparently "refreshed" every three to six months and the sculpture is currently out on tour.
That evening, we went out for dinner at the Foolish Chicken. Elizabeth didn't eat much but she did impress with her best "restaurant" manners.
1
On September 29, 2010 at 10:42 pm
Yukiko
said:
Please let us know when your aunt Mary is coming to Ottawa! We wanted to see her too!!!
2
On September 30, 2010 at 07:47 am
Grandpa H
said:
Nice that they rolled out the red carpet for you, but I'm not sure that I approve of my granddaughter being photographed in the company of that outrageous spider... ;)
You might also like
- War museum
(0.452196)
- Currency Museum
(0.443662)
- Logan Hall
(0.436773)
- Healthy Girl
(0.43607)
- Cows
(0.434783)
All