October 2, 2010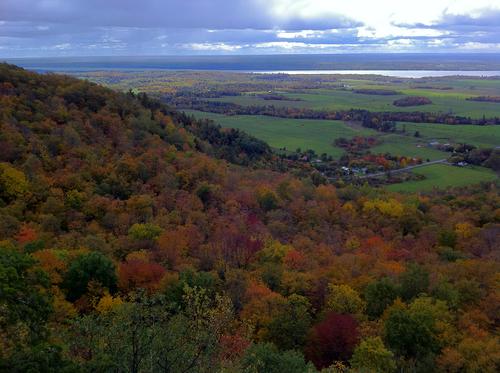 We were going to go to the Ottawa Public Library's "Big Wheels" event to see the city's big trucks but by the time we were all lunched, coats and shoes on and ready to go we realized the event was almost over. (Mommy made a mistake when she looked at the time!)
So we drove to Gatineau Park to see the leaves instead.
We hiked around the Champlain Lookout trail from finish to start. I have no idea why we usually do the trail backwards, but it's practically tradition. Elizabeth walked or ran more than half of it - the entire trail is 1.4 km, but we figure she went over a kilometer. Mommy thinks she might have walked further, but it was starting to rain, the trail was getting steeper and she was getting chilly so Daddy decided to carry her back to the car.
Uncle Chris kidnapped Daddy for a secret birthday expedition as soon as we got back, so Auntie Yukiko and I took Elizabeth and her cousins to the Arboretum to visit the ducks. Then we came back and had lasagna and birthday brownie.
You might also like
- Happy Birthday
(0.348724)
- Spring walk
(0.343598)
- Kitty Face
(0.3379)
- Study in Motion
(0.335142)
- Music Recital
(0.334483)
All