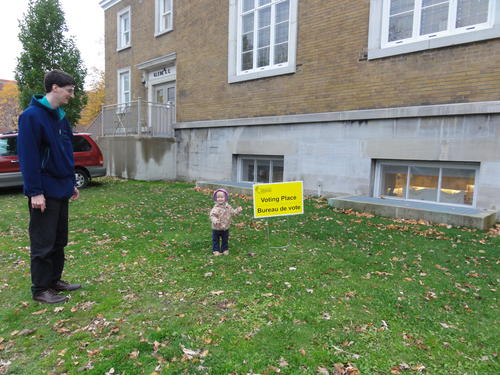 Today we voted for a new mayor, city councillor and school trustee.
No one was surprised by Watson becoming our new mayor as the polls showed him leading 2 to 1 for weeks. We were surprised by the councillor finishing order though. Our new councillor is great, but we were truly frightened by the runner-up. One of her minions visited Grandma J prior to the election. "Why should I vote for her?", Grandma asked. The reply? "You're a woman and she's a woman."
Not that the people who came to our door were any better. Poor Janice received the brunt of the stupid comments. "Are you old enough to vote in the upcoming election?" Another asked: "Do you live in this ward?" Bemused, getting ready for Brownies and very jet lagged, Janice replied that she in fact lived "in this house". "Oh", replied the minion, "I thought maybe you worked here because of your uniform." Do you think I can hire a Brownie / Girl Guide leader as a maid?
At least we don't live in Toronto! As my grade nine science teacher used to say: "Poor, poor Canada!"
Elizabeth helped me vote, and although she very nearly spoiled my ballot because she tried to colour her own bubbles the smudges didn't prevent the machine from reading it successfully.
Afterwards we went to the Metro. Four or five different candidates were lined up along Bank Street doing some last minute campaigning. Then Elizabeth insisted on walking home. Daddy drove our car home and came to meet us. Yes, our polling station was within walking distance - we drove only because we were out beforehand!
1
On October 30, 2010 at 04:38 am
Grandpa H
said:
Somehow I don't think that particular Brownie leader is for hire as a maid - lol!

Love the picture of Elizabeth walking down the street, so independent and self assured - I wonder where that came from? :)
2
On October 30, 2010 at 05:56 am
Grandma H.
said:
and her smile comes all the way from her toes!
3
On October 30, 2010 at 09:45 am
Jessica
said:
I bet there was no green smoke coming out of their ears, either.