October 30, 2010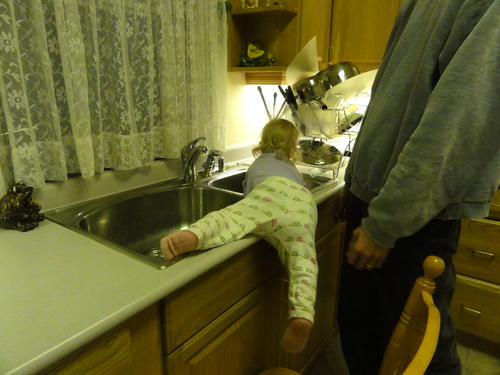 [n
or
ɵ
ӕ
m
ɛ
rikn tri m
ʊ
nki
](
nawrth uh-mer-i-k

uh
n
tree
muhng-kee)
, n.; A mischievious animal able to suspend its body in unusual ways in order to reach things its parents didn't know it could. Clambers out of all but the firmest grip.
1
On November 5, 2010 at 09:12 am
Grandpa H
said:
Sounds like it's time for an electronic tracking bracelet!



As to the phonetic spelling, it looks pretty US-American to me...
2
On November 15, 2010 at 06:33 pm
Grandma H.
said:
Oh, oh! I'm very impressed with your flexibility, young lady!
You might also like
- Chicken Block-Block
(0.249216)
- Babywearing bloggers
(0.243357)
- Christmas Cards and Crayons
(0.241505)
- For Aunt Judy
(0.24055)
- A little knowledge
(0.239683)
All