November 15, 2010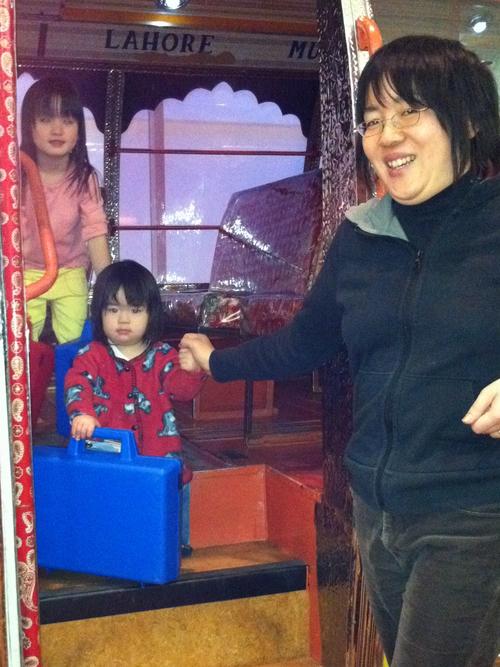 So here's a logic problem: You have one car with four seats and five people. Three of the people must be supervised by an adult. Only one can drive the car in question. How do you transport all five people to go play at the Children's museum? We ended up asking a third adult to help out and doing four trips :)
We spent our time in a different part of the museum, and _still_ haven't managed to see everything there is to see. Elizabeth found a doll in the African village. Erika tried to share the doll but Elizabeth was having none of that. Not even Erika's creative attempt to both hug the doll at the same time was acceptable. Finally, after listening to Elizabeth scream for a few seconds, Erika disgustedly decided to "share" by giving the doll back. Needless to say, Yukiko and I decided it was time to move on to a different part of the museum. There were a few other dolls around, but in the interests of cousinly (and sibling!) harmony we declared them to be "sleeping" and not to be disturbed.
We pounded corn. We played with clay. I helped Erika make a clay horse and the little girls played with the tools and the plastic horse meant as a model. We crawled through an Egyptian pyramid. We sat on a camel. We played with puzzles.
All too soon it was time to head home.
You might also like
- Orange swimsuit please
(0.35817)
- Erika and Maria
(0.355277)
- Summer school aug 3-7
(0.349776)
- The birds and the bees
(0.349355)
- Delayed Halloween Party
(0.349189)
All