November 19, 2010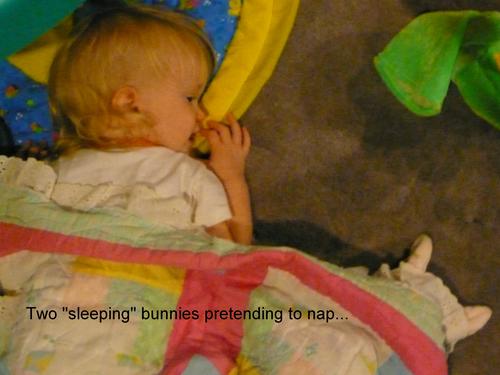 We're in the process of moving our corporate office, and so a lot of old computer equipment, books and random office "stuff" moved temporarily into our basement to be sorted.
Brendan was just going to throw out the old MSDN subscription CDs we had, but Elizabeth thinks they are the best toy ever. Her cousins agree. The CDs spread out over the floor are surprisingly beautiful in the way they reflect the light. Part of me wants to tile a wall with them.
Erika and Elizabeth had great fun making "snow angels" with the CDs. Then Erika made all kinds of lines and squares alternating the various colours.
1
On November 25, 2010 at 08:00 am
Grandpa H
said:
This does mean of course, that you will have to figure out a way for Elizabeth to tell the difference between "her" CD's and your music (or software) collections...
2
On November 27, 2010 at 05:49 pm
Rachel
said:
That's awesome!! Those types of toys are always Ali's favorite, too - the non-toys. Go figure...
3
On November 28, 2010 at 07:46 pm
Daddy
said:
Pretty much nothing useful actually comes on CDs anymore. All our music is MP3s and we're trying to figure out what to do with the actual CDs since all they do now is take up space. You can now buy a lot of music electronically and the last few PCs I've setup were all done using USB sticks instead of CDs/DVDs. Even our car has a harddisk now instead of CDs for music.
You might also like
- First day of grade 3
(0.30427)
- Three at a time
(0.301533)
- Cottage Days: Jack and Olivia
(0.298188)
- Christmas Day 5: Beach day
(0.294294)
- Cousins Lindsay and Anna
(0.293065)
All