December 5, 2010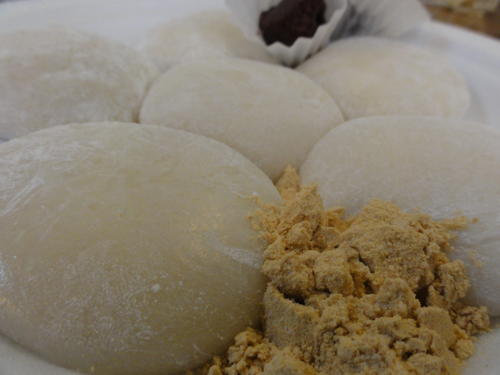 Today was the annual Ottawa Japanese Community Association and Cultural Centre's Mochi making event. Having heard about this last year we thought it would be a fun adventure for the family and a good excuse to get together with cousins.
Right after church we all bundled into the car and drove off without even knowing where we were going. A couple of blocks later we pulled over to check Google for directions. Once Google had figured out where we were going we took off again and managed to get there only 15 minutes after we had intended to arrive (not bad... not bad at all). We found as close to a legal parking spot as we could given the crazy parking going on and headed in to see what all the excitement was about.
We were greeted by a huge room filled with the smell of sushi. We managed to snag a table right up at the front immediately by the mochi making station and the stage. They had two teams of people making mochi while various groups performed on the stage. Each team consisted of two guys with extremely large wooden mallets who alternated pummeling the rice in a bowl between them while a third guy flipped the rice and pulled it away from the sides between strikes. We were quite impressed with the flipper who was certainly putting his fingers and possibly his entire hands at great risk by reaching into that bowl.
Once the hot rice has been pounded into oblivion it gets passed on to the women who separate it and shape it into round mochi. Elizabeth and the cousins seems to find it all extremely interesting despite the very large crowd and thoroughly enjoyed dancing to the taiko drums that performed for everyone. She was not however keen on the sushi. One bite and Daddy got the "that's not rice... it tastes funny" look. After that it was soup or nothing as far as she was concerned. Apparently the rice vinegar gave the rice a distinctly different taste.
1
On December 12, 2010 at 07:17 pm
Grandma H.
said:
Looks like a fun event! Is the mochi cooked after pounding? What are you pulling apart?
2
On December 12, 2010 at 09:52 pm
Mary @ Parenthood
said:
The rice is actually cooked first. It's a special kind and is very hot. They pound the cooked rice into a gummy ball, then coat it in sweet rice flour. It's eaten with a red bean paste or my favourite, a soy powder mixed with a bit of sugar and salt.



I guess Yukiko will let me know if I got any of that wrong! I discovered that I LOVE Mochi!
You might also like:
-
Family Day
-
Je d'école
-
Nationals
-
River Oak
-
Vanier Museoparc