December 8, 2010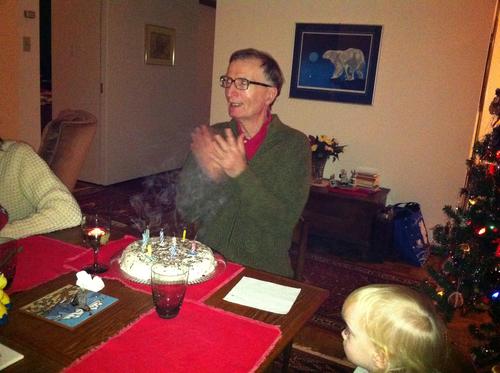 Elizabeth got to wish her Grandpa "Happy Bapa" (Happy Grandpa) today.
She wore her "Boptupus" shirt for the first time. Unfortunately we left it too long in the "too big" box and her head has almost outgrown it already. I'm contemplating cutting the neck open and adding buttons, because Elizabeth really likes it.
How do I know?
Three clues:
1) She insisted on wearing a sweater that she could easily pull aside (in order to show off the octopus).
2) It's pink.
3) Usually she complains if something is tight around the head and refuses to wear it. If it presses on her nose or chin she cries bitterly and demands "ice"*. In the case of the octopus she just smiled bravely and pulled until I thought maybe her ears would come with the shirt!
*Auntie Janice is responsible for the current obsession with icing boo boos. If it's a little boo boo, she demands kisses from all and sundry. If she thinks it's a bigger boo boo, then she demands kisses followed by ice. Not that she uses the ice much longer than it takes to kiss better - too "chilly chilly brr brr".
1
On December 21, 2010 at 01:09 pm
Auntie janice
said:
Good girl! Ice covers a multitude of injuries and swelling, although I'll admit I'm somewhat prejudiced to overreact to falls after my own...
You might also like
- Smiley Face Pancakes
(0.349501)
- Grading for a brown belt
(0.346939)
- Packing snow! Sort of...
(0.342688)
- One month
(0.339623)
- Christmas
(0.33945)
All