December 9, 2010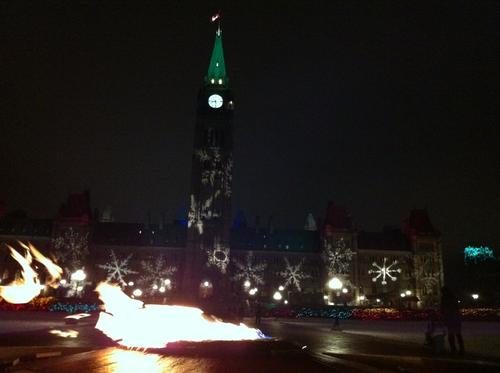 Brendan really likes his sleep and Elizabeth obviously takes after him. Grandma J always says Brendan was the only child she knew that would let you interrupt his nap, take him somewhere else and then peacefully go back to sleep. Elizabeth is the only child that I know that begs for a nap when she gets tired.
Usually after lunch she will take me by the hand and drag me towards bed saying "nap pleeeease". Or for variety "nap and nurse", because she still prefers to nurse to sleep. Once she's asleep I sneak out of the room. Then she sleeps for an hour or so and wakes up ready to play.
This time I had a headache and decided to have a nap myself. Simply having me in the room extended her nap to nearly three and a half hours. We woke up in total darkness around 6:15 in the evening!
"Where's sun?", a confused Elizabeth asked. Since bedtime was clearly going to be late, Brendan and I decided to take her to Parliament hill to see Christmas Lights Across Canada. We counted six doggies out for a walk too.
You might also like
- 21 Months
(0.339731)
- Olympic skater
(0.333795)
- Four months
(0.332184)
- Pregnancy Announcement
(0.330446)
- Sister Act
(0.328467)
All