January 1, 2011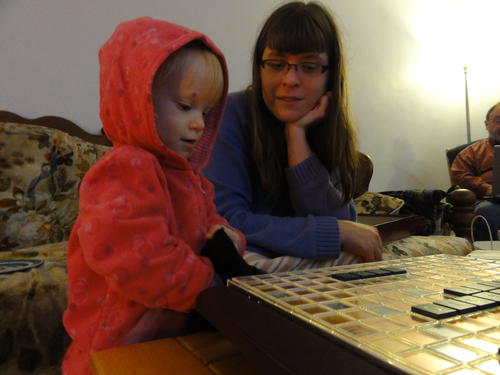 We traditionally play Scrabble on New Year's Eve and then go to bed early.
Even though I was feeling extremely rotten we rang in 2011 with more fanfare than Brendan and I have mustered in years, thanks to my parents. Chinese fondue, sparklers, balloons ("boons") and an actual count down to Portuguese midnight because seven is a much more civilized time.
I did go to bed shortly after seven thirty - even before Elizabeth! But just like we knew Elizabeth was sick when she couldn't finish her chocolate, everyone knew I was sick when I passed on our traditional game of Scrabble. Luckily I was feeling a bit better the next day and challenged my mom to play.
Elizabeth helped for the first time ever.
You might also like
- New Year's Eve
(0.386322)
- Epiphany
(0.339422)
- Ollie Otter goes swimming
(0.339259)
- Spring snow angels
(0.336163)
- Antibiotics
(0.333929)
All