January 8, 2011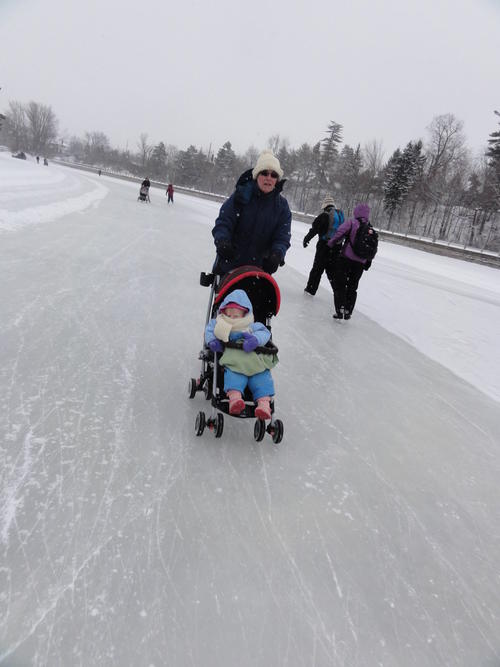 I follow the City of Ottawa on Twitter, and I was pretty excited when I started getting notifications that the Rideau Canal was going to open for the season on Saturday.
I called Grandma J right away to invite her to come skating with Elizabeth and me. "When does it open?" she asked. "Eight AM" I replied, "but that's a little early."
Elizabeth, Margaret and I eventually made it onto the ice only a few hours after it opened. "Too bright", said Elizabeth. So we brought along her sunglasses. Eventually her eyes adjusted and she was done with the sunglasses. Predictably I somehow managed to lose them as soon as they came off her face.
The ice was pretty rough in places and the snow was steadily coming down but they were plowing diligently and we were impressed by how fast the ice improved even by the next day. Turns out the improvement is due to a new ice maintenance machine!
Elizabeth's hands and feet got pretty cold while we were skating, so now we're bundling her up in her sleeping bag. Snowsuit, mitts, hat, boots and all!
You might also like
- Bumpy Skates
(0.368644)
- First Beavertail
(0.361894)
- River Oak
(0.346852)
- Auntie Janice steps on a crack
(0.346711)
- Boxing Day
(0.346205)
All