March 17, 2009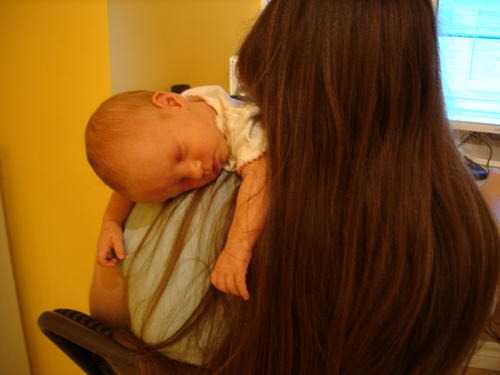 Time has slowed to a crawl as we learn how to synchronize our lives to the rhythm of a newborn. And yet time is also accelerating at a furious pace - we blinked and somehow Elizabeth is already more than two weeks old!
While her newborn clothing is still mostly too big, she has grown four centimeters since coming home from the hospital and now weighs a solid three kilograms.
Her nails have grown long enough to need clipping twice, which we did with great trepidation after midwife Kim warned us not to worry if we accidentally drew blood since the nail quick grows higher for babies. We forgot to ask for specific advice on how to clip baby nails though. Extensive Internet research to determine proper newborn nail clipping strategy revealed only that some parents are very strange (I cannot imagine biting my child's nails for them, but this is often recommended...), so we borrowed baby nail scissors from Brendan's folks, and armed with parental advice Brendan clipped while I held her steady. We're happy to report that Elizabeth still has all ten fingers.
Aside from a pesky cough that can't quite make up its mind to either go away or settle deeper into my bronchioles, I'm feeling better every day. I'm now steri-strip free and I even fit into my pre-maternity pants! (Well, more or less...)
I am also relieved to find that the leaking issue has subsided somewhat. For those of you wondering, I am collecting at least some of the milk and freezing it for later. I did try both disposable and cotton pads, but even with a lower volume of leakage I'm not a huge fan of either as they need to be changed very frequently and the wet feeling against my skin drives me slightly nuts. What is working for me is the LilyPadz product, which is especially useful overnight. I've also ordered a breathable nursing cup from the States which are similar to a product my mother-in-law used and really liked back in the 70s. The benefit of this product is that it allows your skin to breathe and also collects the milk for storage. I'm hoping that it works well for me too!
1
On March 18, 2009 at 01:54 am
Andrea B
said:
Congrats on your new family member! I am praying for all of you for health and wellness and glad to hear that the nail situation is under control!!
2
On March 18, 2009 at 10:00 am
Jen G
said:
I didn't realize you had a blog until your folks mentioned it in an email... your sense of humour really comes across in print!



I'm glad to hear you're doing well, and I hope the cold is better soon.



I like Lilypadz too--they're useful for non-nursing women as well!
You might also like
- Essential gear for babies
(0.423984)
- Healthy Girl
(0.405308)
- Home again, home again
(0.400609)
- 3 months
(0.399478)
- London
(0.398643)
All