January 25, 2011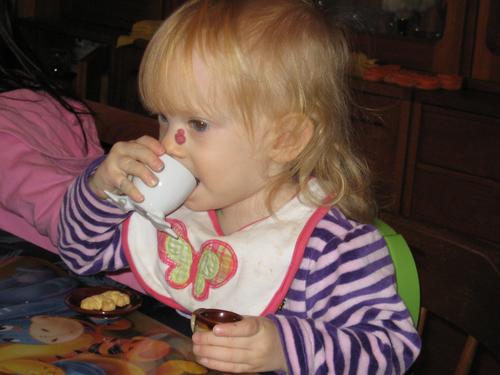 I'd promised Elizabeth a tea party today, so she was thrilled that her cousins showed up to share it with her.
We had lions, tigers and bear cookies, little cheese slices in the shape of the moon, lime jello and lots of milky tea. I refilled the miniature teapot half a dozen times! Mind you, my pouring skills need work - lots of milk and tea ended up on the table.
After the tea party, Erika and Elizabeth made jello while Maria practiced walking around the kitchen. Jello usually comes in crystals here in Canada, but I have some special jelly imported from England that you cut up with a knife and dissolve. Family friend Angie brings it when she visits for Winterlude. I'm particularly fond of the English jello because the flavours are more intense and it's the kind I had growing up!
You might also like
- Sleeping Beauty
(0.324965)
- Birthday party prep
(0.320138)
- Happy Canada Day
(0.317073)
- Strangers
(0.316716)
- Kid Math
(0.315789)
All