February 3, 2011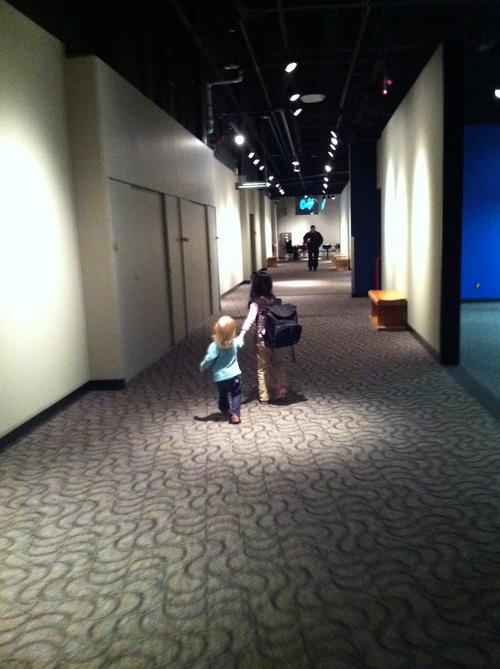 Yukiko and I took the girls to the Museum of Science and Tech.
Erika decided to treat us to a theatre show. There didn't seem to be much of a plot but I think the idea was that she and the two girls would put on all the costumes in turn, come out on to the stage, twirl around without speaking and dramatically return backstage.
Erika dressed the little girls and then made a grand entrance onto the stage. Yukiko and I duly clapped. Elizabeth got very excited and came running towards us so fast that she didn't see the edge of the stage and took a flying leap into the audience. Luckily she didn't hurt herself. Erika called her backstage for a costume change. Five minutes later she strutted proudly onstage holding her mask and just about took another header. After that she was more careful.
Maria got bored and made an escape backstage, but after being retrieved she was persuaded to peek out from the curtains. It was pretty amusing.
Then we went to the Electricity and Physics demonstrations. Erika and Yukiko braved the Van der Graaf machine and the cousins all sat on the chair of nails before heading to the light tunnels to pretend to be network packets.
You might also like
- Cousin Camp: Science Museum
(0.36404)
- Happy Birthday Uncle Chris!
(0.361508)
- Family Day
(0.361111)
- Halloween
(0.358945)
- Elizabeth
(0.357629)
All