February 6, 2011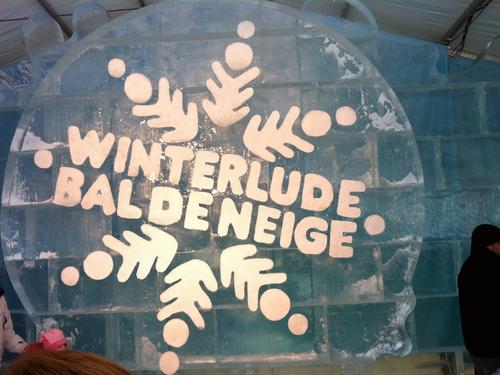 We went to admire the ice sculptures at Winterlude straight after church. Unlike last year, we think we really missed out by not being able to get to the opening ceremonies. I was really hoping to shift bedtime but all of us were nursing vicious colds and so instead we went to bed early.
Even so, after church Elizabeth was so tired she could hardly keep her eyes open. We were surprised by how few sculptures there are outside this year. Instead there was a firepit, some tents, a yurt and a couple of sculptures made of plastic and other materials. I believe this is part of the goal to make winterlude less weather dependent but it's just not the same as the beautiful large sculptures in the open air that we've become accustomed to. I also think it is a mistake to be funneling the large crowds into small spaces like a yurt or the ice cafe (but I did really like the ice cafe, can't comment on the yurt as Elizabeth had passed out by that point). I just think it's better to have large open space when you have lots of people milling about...
Most of the sculptures are clustered at the back of the site under rather unattractive tents, and it was a tough slog to get there. The pathways hadn't been plowed and there was about a foot and a half of slush that made it very difficult to walk. It was very warm (just above freezing) and we weren't allowed to get close to the sculptures in the tent for fear of raising the temperature under the tent further. Nonetheless we could see the sculptures melting before our eyes. Since everyone came to see the sculptures and there weren't all that many to see, there was quite a crowd shuffling along around the ice and it was difficult to get pictures.
However, the sculptures themselves were seriously impressive and beautiful as usual, so despite our disappointment we do think it's still worth visiting. My favourite indoor sculpture is the one with all the fish - how about you? You can vote on them until February 28th.
You might also like
- Happy Earth Day!
(0.404348)
- Slides and Hogs
(0.403941)
- Currency Museum
(0.402372)
- Cows
(0.400806)
- Winterlude 2010 Crystal Gardens
(0.396499)
All