February 12, 2011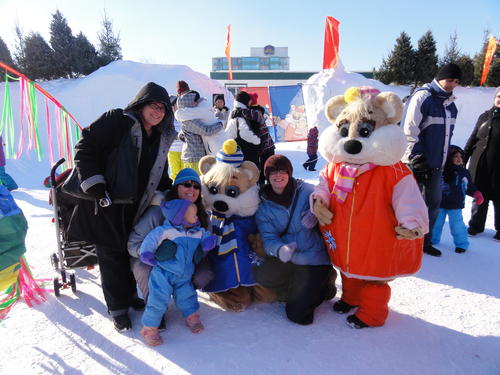 My Auntie Mary was here this weekend so we decided to go to Jacques Cartier Park and check out the Quebec side of Winterlude.
The only problem with being out of diapers is that I constantly worry that Elizabeth is going to pee her snowsuit. Not that that has happened, but it would have made our afternoon out very complicated! Unfortunately the only public washrooms available were porta-potties, which are even worse in the winter. Elizabeth flatly refused to even go inside.
So, crossing our fingers we headed into the park. Elizabeth had her first bites of beavertail (a Killaloe Sunrise, for the record) and then we stood in line for the "Kiddie" ice slide. I got to the top and wondered what the heck I'd been thinking because it looked VERY tall from the top. Adding to my nervousness were the signs forbidding the descent with another person on your lap. But observing many other parents ignoring the sign without comment from the officials and having no opportunity to turn around I gamely put Elizabeth on my lap and down we went.
I was nervous at the top, by the middle I was thinking this wasn't too bad, and then I became concerned we wouldn't stop as the crowd at the bottom rapidly approached. Luckily the snow at the bottom stopped us just in time. Wondering whether Elizabeth liked it, I turned to ask her whether that was fun. "By self", she demanded. "Again, by self."
Auntie Janice took her again (but we didn't let her go by herself). "By self", she demanded again.
Then Mommy decided to brave the big giant slide. There were two lines, one for multiple sliders, and the other for single sliders. Since there were two of us, we got into the multiple slider line. Turns out that this meant one extremely wide slide. Watching other people go down it appeared difficult to stay sitting upright and I didn't think I could put Elizabeth on my lap this time. Another moment of wondering what on earth I was thinking. I got out of line and debated trying to hop the fence into the other line. Then contemplated trying to go back, but the mass of people heading towards the slide coupled with Elizabeth tugging me towards the yawning opening ("Let's go!") convinced me that we had only one option. I sat Elizabeth beside me with my arm firmly around her back and down we went. As suspected we immediately ended up on our backs, but the ride down was pretty fun despite twisting and turning around. As soon as we got to the bottom Elizabeth wanted to go again, but we decided to walk around a bit instead.
We admired the kites (including a really cool one that looked like two sharks circling a bunch of clown fish) and then Elizabeth got to meet Nouma and Zouma the Winterlude Ice Hogs. Elizabeth wasn't too sure about giving them a hug but she talked about it with enthusiasm at home with Daddy. (Not quite as much enthusiasm as she did about getting to go down the slide BY SELF!!! but it was clearly a highlight)
The Canadian Forces had a whole section complete with chair racing, a winter obstacle course and an exhibit about the Rangers with all kinds of vehicles to sit in and Pangnirtung improperly marked on the map. We took a quick peek but Elizabeth was getting cold so we headed to the snow bus to go back to Ottawa.
The first bus was full, but a second came within the promised three to five minutes. Unfortunately, it was not going as far as Dow's Lake so we had to get off downtown. Since we were just across the street from the ice sculptures, we went to see them. We passed Oscar Peterson's statue and posed for a picture. Unfortunately Elizabeth thinks Oscar's statue is very, very scary. She cried and cried, so we gave up and went to the Crystal Gardens just in time to see a Giant Panda and an Ice Dragon that had been captured by pirates! Elizabeth thought the dragon was scary from the front, so I had to content myself with a picture of his tail.
Not a lot of (or really any!) gluten-free options for lunch, but I had some french fries and Mary and Janice had poutine. Elizabeth had a great time waddling around until she started getting cold again, and then she kind of lost the plot, so we took a second bus to Dow's lake and then walked home.
1
On February 19, 2011 at 01:03 pm
Grandma H.
said:
Sounds like a great day! Oh my, Elizabeth might be the daring one in the family. I'm left in suspense wondering if the snowsuit got wet. what kind of chair racing? Did Auntie Mary straighten them out re Pang?
You might also like
- Family Day
(0.50561)
- Mary and Andrea visit
(0.474543)
- Healthy Girl
(0.466757)
- Cottage Days: Zip lining, Regatta, Squeegee
(0.461238)
- War museum
(0.460847)
All