February 21, 2011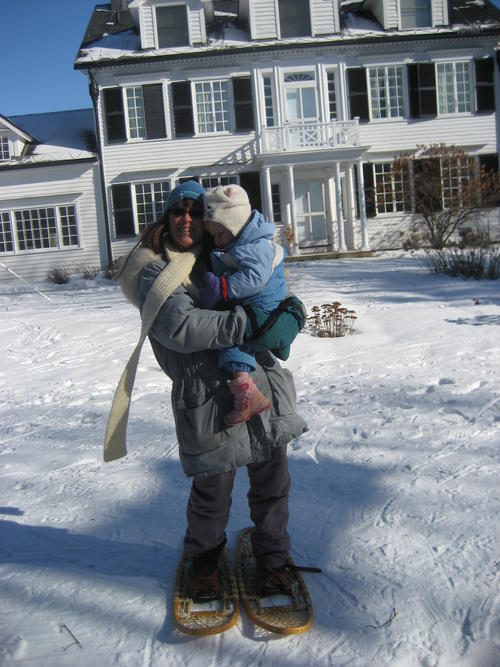 Angie, Elizabeth and I went to Billings Estate for Family Day activities this year. We were a little sad that the house was closed due to renovations, but Angie got to buy some authentic Billings tea.
I got to snowshoe for the very first time, which was very exciting! Elizabeth didn't want to try "self" so I carried her instead "ike a baby". Luckily the snow was pretty packed down so it wasn't too challenging, although I did keep forgetting which foot I needed to move first in order to turn (the outside one).
After snowshoeing around the house, we roasted marshmallows and went on a horse-drawn sleigh ride. Elizabeth was so charmed by the "horsey walking" that she forgot all about pretending to be a baby for a bit.
1
On February 25, 2011 at 02:17 pm
Lara
said:
Billings Estate is one of those places that I can't believe I've never explored. I SO need to do that. Do they do that stuff all winter long? (would it make a good kidsinthecapital.ca post maybe? :)
2
On February 25, 2011 at 08:39 pm
Capital Mom
said:
The snowshoeing looks great! I have never been to Billings Estate. I will have to visit.
3
On February 26, 2011 at 09:10 pm
Stephanie
said:
I've never been snowshoeing, but I've heard it's a good workout. And you got double the workout because you were carrying a toddler! :)
You might also like
- First snow 2015
(0.353053)
- Crystal Gardens
(0.349206)
- Wedding prep
(0.346269)
- Daddy and the buck bucks
(0.342857)
- Lost shoe
(0.33638)
All